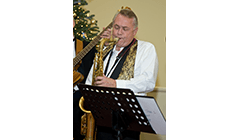 Published: 02-05-2016
Local musician Thom Botsford hits the right notes as he combines saxophone selections with a discussion of "The Devil's Horn" by Michael Segell at Pensacola State College's monthly Book Talk at 2 p.m. Wednesday, Feb. 17.
The public is welcome to this free, informal event at the Edward M. Chadbourne Library, Building 20, on the Pensacola campus, 1000 College Blvd. A question and answer session follows the presentation.
Botsford says he is indebted to Segell for helping him understand why he has been drawn to the saxophone for most of his life.
"Segell's book makes the point that no other wind instrument has penetrated and made itself essential to 20th century music more than the saxophone – from the Roarin' 20s scene to bebop, rock, Latin, blues and soul music, to name a few," he explains.
"The character of the instrument is seductive, itching for a fight, eager to lead its followers astray, always poking its bell into other people's business."
Botsford's presentation explores Segell's treatment of the history of the saxophone, invented by Adolphe Sax in the early 1840s; the influence of the sax on various music styles; and of course, the contributions of saxophone giants such as Stan Getz, Archie Shepp, John Coltrane and Charlie Parker.
While enjoying professional success as a journalist and communications professor at PSC, Botsford clearly loves his avocation as a saxophonist. He says the sax has kept him jamming and gigging, playing rock, jazz, and rhythm and blues from Montgomery, Alabama to Pensacola for more than 40 years.
During the music portion of his presentation, Botsford will be accompanied by pianist Chris Saunders, a long-time musician who was a regular in Al Hirt's band.
For more information, call the PSC Edward M. Chadbourne Library at 850-484-2013.