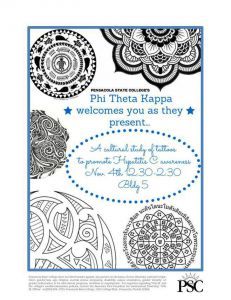 Published: 11-02-2015
Wednesday November 4th, 12:30-2:30pm, Student Center (Bldg 5)
This event is FREE! Everyone is welcome, and participants will (while supplies last)
• receive collectible pins
• receive pizza and a drink
• have the option of getting a temporary tattoo with henna or tempura paint
Phi Theta Kappa members have researched human expression through tattoos in various countries around the world. They will share this research in the form of an educational fair. You can visit our five display tables at your own pace, and collect pins representing the different nations our honor students have researched. Stop by anytime during the event.
We are also raising awareness of Hepatitis C and will be collecting monetary donations that will help fund education about Hep C. Donations are strictly voluntary. Pocket change is greatly appreciated.
Come support your fellow PSC students! They've worked hard on this project and it should be a lot of fun! Questions can be sent to Jpetersen@pensacolastate.edu.