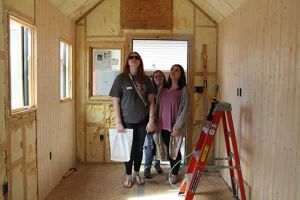 Published: 11-01-2016
More than 120 Tate High School seniors received an early taste of college life when they visited Pensacola State on Tuesday, Oct. 25.
The students got a firsthand look at the college's associate in science degree and workforce education certificate programs during the Pensacola campus tour.
"My visit to the Pensacola State campus really gave me a feel to what college life is actually like. Eventually, I want to become a neonatal nurse and Pensacola State is a great place for me to start," said Felisha Stanton, who plans to apply to Pensacola State's nursing program after high school.
"Overall today was a lot of fun. I got a glimpse of other programs such as cosmetology, welding and even carpentry courses. Those are not my chosen career path, but it was really fun to know these programs are available and I can get a good-paying job with a certificate."
During the nearly day-long event, the high school students also received advice on how to be successful in college and life from Pensacola State faculty and staff.
Al Huffman, a counselor and professor representing the Warrington campus, told the students to look at a Sunday newspaper to see what jobs are available in the area.
"The vast majority of the job openings are in the health care and medical field or in manufacturing," Huffman said. "You need to be doing some career exploration right now. And if you're going to college – Plan! Be proactive!"
He stressed the importance of post-secondary education or training.
"The people moving forward in life are those who are trained," he added.
Karen Porter, a Tate High senior counselor, said the English curriculum requires college and career exploration, and school administrators decided to bring students to Pensacola State.
"There is a lot of interest in the career programs and today's tour allows our students to learn more about what PSC has to offer. They also have an opportunity to visit a college campus," she said, adding this was the first time Tate High has brought a group of seniors to Pensacola State.
"Our students are very engaged and interested in what the college is sharing today. During the second semester, we'll be bringing another group of students here to give them the same opportunity."
So far, about 100 Tate High students have filled out Pensacola State applications, and more are expected to apply, Porter said.
The tour was enlightening for Tate High senior Christian Cass who expressed interest in the college's carpentry program.
"I've learned so much about Pensacola State today. I'm not from this area so it was really good to get a chance to see the campus, talk with the professors and see the actual degree and certificate programs up close," he said. "I'm really interested in the carpentry program. I'm in a similar class at Tate and really enjoy working with my hands and building things. It's great that I can earn a certificate and get a good job doing something I really enjoy."
Samantha Hill, PSC director of Director of Student Affairs Operations, said the tour allowed the college to showcase its offerings to the potential students.
"No matter what these seniors want to do after high school – college track or career track – we were able to show them how Pensacola State can help them reach their goals," Hill said. "For those wanting to go into the workforce, we offer many certificate programs – some that are only one semester. And for those whose plans include college, we can guarantee an A.A. transfer to all Florida public universities."
Hill said the college hopes the tour becomes an annual event for the Tate High seniors.
"We've partnered with Tate before and hopefully we can eventually invite other high schools to tour our campus," she added.