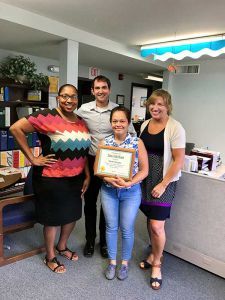 Published: 06-27-2017
Sarah Sturges, a work study student in Pensacola State College's Continuing Education Department, has been selected as the Kelly Services Talent of the Month for May.
"I was so excited and motivated being selected the Talent of the Month by Kelly Services," said Sturges, a 2015 Pensacola State College graduate who now is a senior at the University of West Florida.
"It's really nice being noticed for doing your job. I love the staff in continuing education, they are really good people to work with and I'm honing my customer service skills in the position here."
Michael Listau, coordinator of continuing education, described Sarah as an outstanding member of their team and critical to the department's success.
"Sarah has taken on increased responsibilities over the past few months and understands the complex processes existing within the department. She provides excellent customer service and maintains a joyful and positive attitude to all she interacts with," he said, adding she frequently goes out of her way to help students who have a unique situation or question that needs to be answered.
"Sarah has also helped to direct people to the VITA tax services taking place across form our office. Although not a specific requirement of her job, Sarah has helped others by walking them over to the tax services location in order to make sure they received the services needed. This is just one of many examples where Sarah went above and beyond to help people she interacts with," Listau noted.
Dawn Hope, Kelly Services Account Talent Manager, said Sturges – who has worked in continuing education for more than 2 1/2 years – received more than one nomination.
"Thank you so much for your nominations. If you have a Kelly employee you would like us to consider for the June Talent of the Month, send the submission to me," Hope said. "If you don't have a submission, but would like to help me pick the winner for June, that would be awesome."