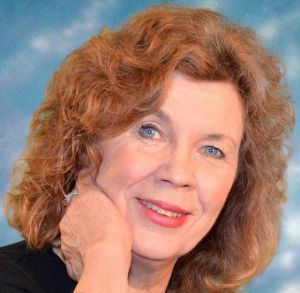 Published: 02-28-2017
"Old Dogs, Hank Williams, and the Art of the Memoir," a presentation by syndicated columnist and author Rheta Grimsley Johnson, brings a touch of Southern humor to Pensacola State College's Book Talk at 2 p.m., Wednesday, March 15.
The public is welcome to this free, informal event at the Chadbourne Library, Building 20, on the Pensacola campus. A question and answer session follows.
Johnson's latest book, "The Dogs Buried Over the Bridge: a Memoir in Dog Years," explores her deep connections to a series of lovingly remembered pets. Fellow Southern writer Rick Bragg says of Johnson: "She writes with nothing short of beauty about childhood, lost loves, sad dogs, and everything else worth knowing about."
Other works by Johnson include "Good Grief," the authorized biography of Charles Schulz, published in 1989 and "Poor Man's Provence: Finding Myself in Cajun Louisiana" in 2008.
On her last visit to Pensacola in 2010, she discussed "Enchanted Evening Barbie and the Second Coming," another personal memoir. In 2012, she published an appreciation of country music legend Hank Williams, "Hank Hung the Moon and Warmed Our Cold, Cold Hearts."
Noted for her syndicated column that ran in 300 newspapers, including the Pensacola News Journal, Johnson has earned an impressive collection of awards, including being one of three finalists for the Pulitzer Prize for commentary in 1991.
Among her accolades are the National Headliner Award for commentary in 1985, Scripps Howard's Ernie Pyle Memorial Award for outstanding human-interest reporting in 1984, and Scripps Howard Writer of the Year from 1983 to 1985.
Johnson grew up in Montgomery, Alabama, graduated from Auburn University, and now lives and writes in Iuka, Mississippi.
For more information, call the Sheila Nichols at 850-512-3609.