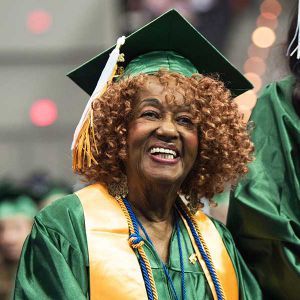 Published: 06-27-2017
Age is only a number for recent Pensacola State College graduate Catherine Moore.
On May 7, the 86-year-old Moore was among the Pensacola State grads to walk across the Pensacola Bay Center stage to receive her associate degree in psychology.
Five years ago, a college degree was only a dream for the Harlem, New York, native who dropped out of high school after the 11th grade, married and started a family. However, three years ago Moore felt enough time had passed, and at age 83, she enrolled in Pensacola State College.
And as she did with everything in life, Miss Cathy – as she was affectionately referred to by Pensacola State students, faculty and staff – was outstanding! A scholarship student, she was a member of Phi Theta Kappa and graduated with a 3.56 grade point average.
She also was an inspiration to many of her classmates.
"I was apprehensive about returning to school, and I really thought I was doing something good going to school in my 50s," 55-year-old Barbara Walker said. "But I met my hero in Miss Cathy. I know I can complete college now because of her. She is my hero."
A woman of extraordinary wisdom, Moore took her time completing her degree requirements because she didn't want to overburden herself.
"I wanted to succeed," she said, adding she too was initially intimidated about college. "But I've received so much support at Pensacola State. Everyone was so helpful, and it's made me feel confident in myself."