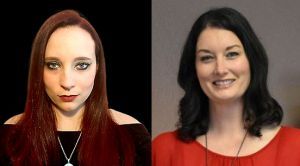 Published: 04-15-2021
Troy Moon, Pensacola State College
Amber Carey is known as one of Pensacola State College's best instructors. Students love her. Administrators and fellow faculty admire her. And in 2020, she was inducted into the Academy of Teaching Excellence.
Yet for all her hard-work and accomplishments, the PSC Spanish instructor and Robinson Honors Program coordinator wasn't sure she was at her best during the past year as the pandemic changed the way teachers taught, challenging them to find new ways to connect with and serve their students.
"I was so worried that I wasn't doing as well as I should be with the pandemic and the hurricane,'' Carey said. "You hope you're doing well but it was a tough year and I wasn't sure."
She's being tough on herself. Just ask PSC cybersecurity student Allison Dugas. Dugas' essay on Carey was one of three national winners of the National Institute for Staff and Organizational Development's (NISOD) Student Essay Contest.
Students who entered the essay contest were asked to write an essay about a faculty or staff member, or administrator, who inspires students to be academically successful.
Dugas' essay about Carey is titled "A Woman of Letters".
"She is absolutely the best,'' Dugas said. "She lights up any life that she becomes part of."
Dugas works for Carey as a student assistant in the History, Languages and Social Sciences Department and assists Carey with work in the Robison Honors Program.
"I've seen her drive to Warrington and Milton and Pace to take students assignments and material,'' Dugas said of Carey. "I couldn't let that go unnoticed."
Carey knew nothing of the essay or contest until she received correspondence from NISOD informing her that she was the subject of a winning essay.
"I cried,'' Carey admitted. "It made me feel that I maybe wasn't doing as horrible as I thought."
Dugas said she heard that Carey teared up.
"I would have liked to have seen that,'' Dugas said. "Not just to see her cry, but just to share in the emotion."
The winning essay comes with a prize – for both Dugas and Carey, who will each receive $1,000 from NISOD. PSC will receive a complimentary annual NISOD membership for the winning essay.
"That's pretty cool,'' said Dugas, a single mother of three children who hopes to earn her Cybersecurity Baccalaureate of Applied Science degree from PSC in 2022. "I had no idea about the prize until I had won."
Carey, likewise, was surprised that any kind of prize would be coming her way. She said she will probably use the money to travel, a passion of Carey's, now that more people are being vaccinated.
"I'm excited about traveling again,'' Carey said. "It's been a tough year for sure."
Allison Dugas' essay on Amber Carey:
A Woman of Letters
Nobody believes that poor people like me will make it. I grew up on nothing more than my mother's love. I tried the Army, but an injury forced me out. College? Yeah, I tried that, too – twice, but single motherhood changed my priorities. They say poverty is a cycle, and let me tell you: it is one exhausting ride. If I wanted to get off that bike, I had one choice – give college another try. So off to Pensacola State College I went. I can do it this time – at least, that is what I kept telling myself, but the daily struggle was real. Then, a letter came in the mail from the college. What I found inside welcomed me to a new beginning.
"It is my greatest pleasure to inform you that you have been accepted for admission to the Robinson Honors Program." Some details followed and led to the signature of Molly "Amber" Carey, Program Coordinator and Associate Professor of Spanish. I could not believe it – honors? Me? For the first time in my academic life, I felt a sense of accomplishment. Somebody really believes that I can do this. Amber has that effect on people.
She champions the Robinson Honors program, overseeing administration, curriculum, and student selection. Each semester she finds students who are both academically gifted and seeking to "make the most" of their college experience. They all receive personal letters like mine. It is one of the many ways she lifts others up.
Before the COVID-19 pandemic, Amber was already heavily involved in the campus community on top of her own family's daily schedule. Just watching this amazing woman go through her busy week is good cardio. The pandemic and a category 2 hurricane did nothing to break her stride.
Amber went the extra mile to make sure that the hardships of Pensacola did not rain on her people. She used these "disasters" to push people towards personal greatness. Her example is a vivid life lesson – if you want to make a difference, get involved.
Hurricane Sally cut power and communications. Amber found ways to check on her students and colleagues and initiated supply drives. When the pandemic made everyone remote students, she digitized the entire Spanish curriculum and spent hours assisting those who struggled. No computer? No problem. Amber mailed and delivered assignments for those without Internet access or transportation. The pandemic also left students alone and disconnected. Amber got creative with club events providing a chance to reconnect and observe CDC safety rules. She exemplifies what one determined and caring soul can accomplish in this messed up and broken world.
Amber changed my life with a letter. It broke through my anxiety and doubt. She made me feel important, accomplished, and capable. I earned my associate's degree and finally walked across that stage. I will have my bachelor's in a year. I finally found the path to success because Amber cared enough to mark it with neon signs.