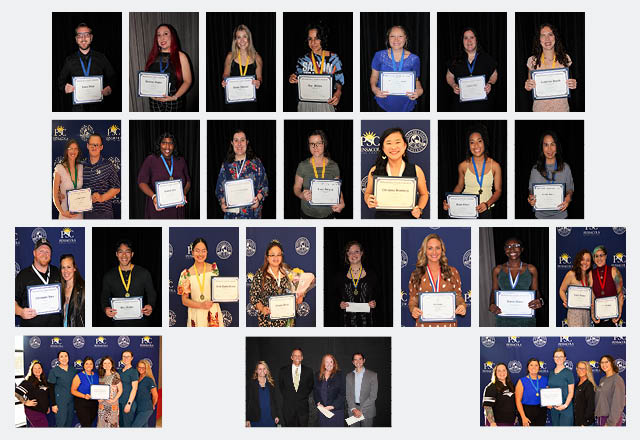 Nearly 100 Pensacola State College students were honored for achievements in academics, leadership, service and volunteerism at the 2023 PSC Student Excellence Awards Ceremony on April 13 in the Jean & Paul Amos Performance Studio at WSRE-TV.
The ceremony recognized Program and Department Scholars, Scholastic Achievement (3.9 grade point average or higher) and members of the All-Florida Academic Team.
Awards also were presented for Leadership, Service and Outstanding Student Volunteer. The Sharlene E. Burkhardt Award is given annually to two students to honor the former PSC student who died in 1968. Her parents established the award to recognize students who have shown a dedication to others, as their daughter did.
The 2023 PSC Student Excellence Awards recipients are:
PROGRAM SCHOLARS 
Athletic Training – Tiana Curry
Early Childhood Education – Dillon Hunt
Elementary Education – Ivy Crosby
Exercise Science – Adrienne Magdic
History – Zander Rogers
Philosophy – James Wyatt
Psychology – Bailey Scott
Social Sciences – Maritza Watson
Social Work – Jory Prescott
Dental Hygiene – Shelbey Odom
Early Childhood Education – Rochelle Dial
Physical Education – Aubrey May
Physical Therapist Assistant – Maria Garcia
Sports Management – Harry Santiago Cotto
Veterinary Technology – Annabelle Clark
Early Childhood Intervention – Chandra Walker
DEPARTMENT SCHOLARS 
English and Communications – Lydia Chomos
Natural Sciences – Luke Synoground
SCHOLASTIC ACHIEVEMENT, ASSOCIATE DEGREE LEVEL 
Angela Azzole, Adnan Begic, Jamie Bowling, Xiaoling Chen, Jonas Cockson, Mona Doane, Breanne Duby, Amanda Eakin, Aidan Enfinger, Jeffrey Ferris, Kayleh Forbes, Keith Daphne Franco, Maria Garcia, Robin Golden, Laura Harman, Catalina Himes, Heather Hinkle, Savannah Holmes, Marie Jansen, Alyssa Johnson, Huda Kader, Meskerem Kinfe, Christopher Kirkland, Hanna Mathews, Tyler McDonald, Fatima Membreno-Gonzalez, Alex Mendez, Ralitsa Mihaylova, Ana Millan, Sam Papania, Camryn Pedzinkski, Katelyn Post, Erin Puckett, Megan Rathmann, Sydney Ryan, Hutson Savage, Brandie Seber, Iryna Slyusar, Sadie Smith, Catherine Smith, Jessica Spencer, David Stubbings, Samuel Tadlock, Maria Tirado, Karina Torres, Megan Travis, Alexis Trejo, Kori Vertz and Marlandra Williams Rowland.
SCHOLASTIC ACHIEVEMENT, BACCALAUREATE DEGREE LEVEL 
Jabria Davis, Sutherland Godby, Anna O'Neal, Nicholas Sachse and Andrew White.
ALL-FLORIDA ACADEMIC TEAM 
Erin Conklin, Eliot Feller, Katelyn Harrison, Kyler Kortgaard, John McLeod and
Richard Owens.
LEADERSHIP AWARD 
Concepcion Burbick, Ezriel Choi, Riley Hobden, Christopher Proctor, Clara Viveros, JR Welch and Jaclyn Woolley.
SERVICE AWARD 
Noah Demangles, Tony Edmunson, Nympha Hixon, Christina Hamburg, Christopher Horn, Chase Jennings, Iliana Martinez-Soriano and Sydney Tumblin.
OUTSTANDING STUDENT VOLUNTEER AWARD 
Leah Finney
OUTSTANDING VOLUNTEER SERVICE GROUP AWARD 
Student American Dental Hygienists Association
SHARLENE E. BURKHARDT AWARD 
Joy Slattery