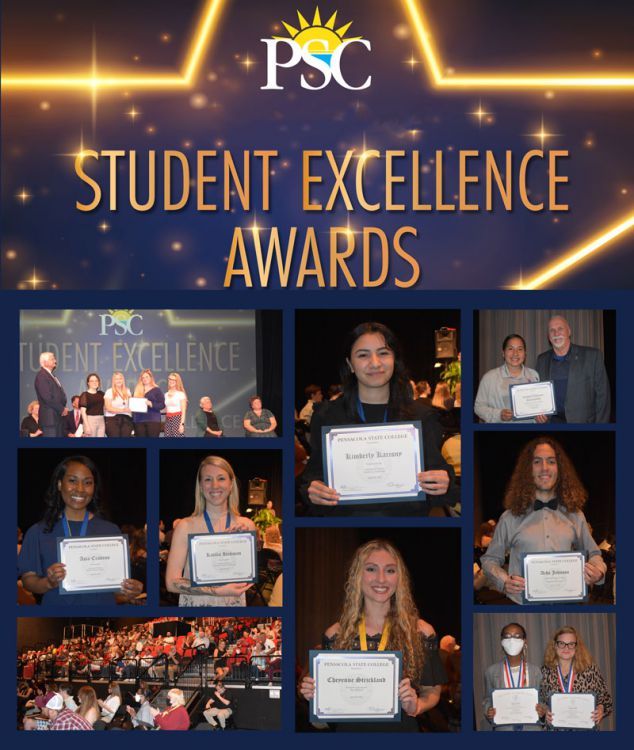 By Troy Moon
Pensacola State College
More than 100 Pensacola State College students were honored for achievements in academics, leadership, service and volunteerism at the 2022 PSC Student Excellence Awards Ceremony on Wednesday, April 20, in the Jean and Paul Amos Performance Studio at WSRE-TV.
"What a great evening,'' PSC President Ed Meadows said at the ceremony, which was also attended by many friends and family members of the students.
"There are two occasions each year that the administration looks forward to – commencement, which is coming up soon, and the Student Excellence Awards… These are student leaders in academics and in the community."
The ceremony recognized Program and Department Scholars, Scholastic Achievement (3.9 grade point average or higher) and members of the All-Florida Academic Team. There were also awards presented for Leadership, Service, Outstanding Student Volunteer. The Sharlene E. Burkhardt Award is given annually to two students to honor the former College student who died in 1968. Her parents established the award to recognize students who have shown a dedication to others, as their daughter did.
"Thank you for being the best of Pensacola State College,'' Margie Moore, Chair of the PSC Board of Trustees, told the award recipients. "Congratulations on all your achievements."
Those achievements did not come easy.
"I really did work hard and gave it everything,'' said Asia Cravens, Physical Therapist Assistant Program Scholar. "This is something I knew I wanted to do, and I love it and it was worth all the effort."
Cravens graduates next month with a 3.93 grade point average and has already been hired as a Physical Therapist Assistant at the Santa Rosa Medical Center.
Here are the recipients of the 2022 PSC Student Excellence Awards:
PROGRAM SCHOLARS 
Leslie McCall, AA degree, Early Childhood Education Advising Track, Leslie McCall
Karlee James, AA degree, Elementary Education Advising Track, Karlee James
Erran Bergstrom, AA degree, History Advising Track
Megan Rayner, AA degree, Social Work Advising Track
Kevin Montiminy, AA degree, Sports Management Advising Track
Vendramini Sheppard, AS degree, Early Childhood Education
Katilin Hickman, AS degree, Electronics Engineering Technology
Asia Cravens, AS degree, Physical Therapist Assistant
Kimberly Karisny, AS degree, Veterinary Technology
Anna Smith, Career Certificate Massage Therapy
Zachary Bell, Career Certificate Welding
DEPARTMENT SCHOLARS 
Thames Goodwin II, Business,
Sebastian Gordon, English and Communications
Wesley Wilmot, Natural Sciences
SCHOLASTIC ACHIEVEMENT, ASSOCIATE DEGREE LEVEL 
Melissa Albuquerque
Joey Avant
Noah Belmain
Madison Berry
Kiara Betts
Bryanna Bevil
Hunter Borelli
Austin Brown
McKenzie Brown
Laura Bui
Shaye Chandler
Amanda Childers
Ezriel Choi
Kelly Coberly
Dylan Connolly
Asia Cravens
Chance Cunningham
Crystal Duc
Ella Eason
Belle Fehr
Alexys Fleming
Rachel Fulford
Maranda Garcia
Aiden Grossman
Gabriel Gutierrez
Christina Hamburg
Grace Hamilton
Emily Hemley
Amber Holman
Gabriele Hough
Katelyn Howard
Lance Howard
Chloe Huffman
Nini Huynh
Scott Joslin
Sarah Juntunen
Gabriella Keck
Diana Le
Erika L'Orange
Amanda Lugo
Amy MacKinnon
Kelli MacMurchy
Grace Maxwell
Isabelle McCurdy
Meredith McGhee
Kenna McKinley
Jillian McLaren
Raheem Moore
Sarah Nahrstadt
Linh't Nguyen
Amanda Picou
Kirsten Quigley
Julia Reid
Asa Riffee
Summer Rogers
Katie Rolin
Zachary Ross
Juliana Rousseau
Rebecca Schutz
Hannah Sepe
Eleni Sfanos Ayoub
Oksana Sherman
Payton Singleton
Lauren Slade
Elijah Smith
George Starkie
Cameron Stein
Rebekah Stevenson
Cheyenne Strickland
Christina Sullivan
Jarrett Tindall
Izel Tuncer
Kaitlyn Wallace
Trinity Wilkes
Cierra Williams
SCHOLASTIC ACHIEVEMENT, BACCALAUREATE DEGREE LEVEL 
Tevita Fohe
Sacha Marquis
Miranda Molter
Marshall Price
John Scanlon Jr.
ALL-FLORIDA ACADEMIC TEAM 
Eleni Sfanos Ayoub
Pamela Holt
Maliya Tilley
LEADERSHIP AWARD 
Britney Curtis
SERVICE AWARD 
Allison Dugas
OUTSTANDING STUDENT VOLUNTEER AWARD 
Milton Campus ─ Dillion Raben
Pensacola Campus ─ Jacob Kayl Jr.
South Santa Rosa Center ─ Arda Johnson
Warrington Campus ─ Brittany Burleson
OUTSTANDING VOLUNTEER SERVICE GROUP AWARD 
Milton Campus – Phi Theta Kappa
Pensacola Campus – Student Veterans Association
Warrington Campus – Student American Dental Hygienists' Association
SHARLENE E. BURKHARDT AWARD 
Blane Coomer
Emily Weeks