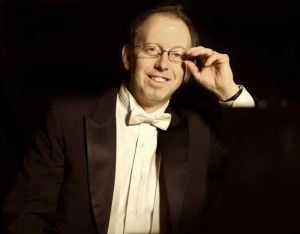 Published: 09-12-2016
Steinway Artist Richard Cionco opens the Sid and Jeannie Kamerman Piano Series at Pensacola State College at 2:30 p.m., Sunday, Sept. 18, in the Ashmore Fine Arts Auditorium, Building 8, on the Pensacola campus, 1000 College Blvd.
Praised in the New York Times for his "sensitive pianism," Cionco has performed with numerous orchestras and in recital in nearly every major U.S. city as well as China, Japan, Taiwan, Hong Kong, Canada, Czech Republic, Slovakia, Germany, Italy and Denmark. His performances of Liszt's complete "12 Transcendental Etudes" have brought him rave reviews.
A graduate of the University of Maryland and the Juilliard School of Music, Cionco is currently professor of piano at California State University Sacramento and is frequently invited to give master classes in the United States and abroad.
For his PSC concert, "The Romantic Spirit," Cionco performs works by Bach-Siloti, Schumann, Chopin and Mompou, among others.
Starting its fourth season, the Kamerman Piano Series was established to provide greater community access to concerts by international, critically acclaimed classical pianists.
Ticket prices are $11 for reserved admission; $9 for seniors 60+, children and non-PSC students; $7 for PSC staff/faculty/retirees and PSC Seniors Club members; and free for PSC students.
Purchase tickets online at www.pensacolastate.edu/lyceum or at the Lyceum Box Office, Building 8, Room 861, from 8:30 a.m. to 4 p.m., Monday through Friday. Tickets are also available at the door one hour before a performance.
For reservations or more information, call the Lyceum Box Office at 850-484-1847.