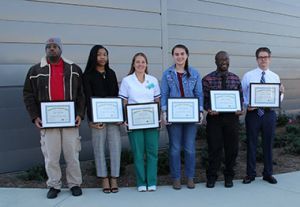 Published: 01-29-2019
Six Pensacola State College students were among those honored with the Commissioner's Leadership Award at the Florida Department of Education State Board meeting held Jan. 16 in the Charles W. Lamar Studio.
Education Commissioner Richard Corcoran recognized Pensacola State students Walter Beckman, Karen Vidal, Miriam Villa and Christina Zaccardi; Pensacola State Vocational Rehabilitation students Jerrell Bloxson and Mark Harrison and Escambia County School District students Michael Alderman, Katherine Harrison and LaKeisha King during his commissioner's report. The award is presented for outstanding leadership and services as a student in the state of Florida.
Corcoran was joined in making the presentations by board members Marva Johnson, chair; Andy Tuck, vice chair; Ben Gibson; Tom Grady; Michael Olenick; Andy Pollack and Joe York.
Pensacola State President Ed Meadows welcomed the board to the College while Escambia County School District Superintendent Malcolm Thomas provided updates on the K-12 public schools. Palm Beach State College President Ava Parker also spoke on behalf of the Council of Presidents of the Florida College System.
The Leadership Award recipients represented a variety of backgrounds, circumstances and ages and all had pursued academic achievement while overcoming personal challenges.
Having to undergo radiation and chemotherapy to treat a cancerous tumor led Karen Vidal, a 911 dispatcher, wife and mother of two, to change vocations and enroll in Pensacola State's nursing program.
"I was really amazed at all the effort and the care that the nurses put in – not only into my care but all of the other people I saw," explained Vidal, who had not been in school since graduating from the University of West Florida in 2005. She is now in her third year at Pensacola State and plans to work in pediatric oncology after graduation.
Miriam Villa, a military spouse who moved to the U.S. from Germany in 2018, is also a first-generation college student and a full-time mother to a 3-year-old autistic son. She finished her freshman year at Pensacola State with a 4.0 grade point average and was inducted into Phi Theta Kappa honor society. Villa, who eventually wants to pursue a career in dentistry, said she is humbled by the accolades.
"I feel very honored that I was considered for this special recognition; however, I must say that my accomplishments aren't only because of my hard work," she said. "My teachers, the math and writing labs, and my friends and family were the ones who supported me so much throughout this year."
Vidal echoed Villa's sentiments about the Pensacola State faculty.
"The teachers are great here.  I've never been around teachers at a college level that really care about you the way that the teachers here do," described Vidal, who added her nursing classmates also provide much-needed support.
"We all take the same classes together, we get to know each other," she said. "We're spending so much time with each other in this nursing program that we really are becoming like best friends."
Other students honored faced difficulties ranging from physical limitations and learning disabilities to teen parenthood to tragic loss of relatives. Despite these setbacks, they persevered and are on the path to achieving personal success.
"Your life is your life," Vidal added.  "When something happens, you just keep going. You can't just quit because something happens that you hadn't planned on."