Published: 01-12-2023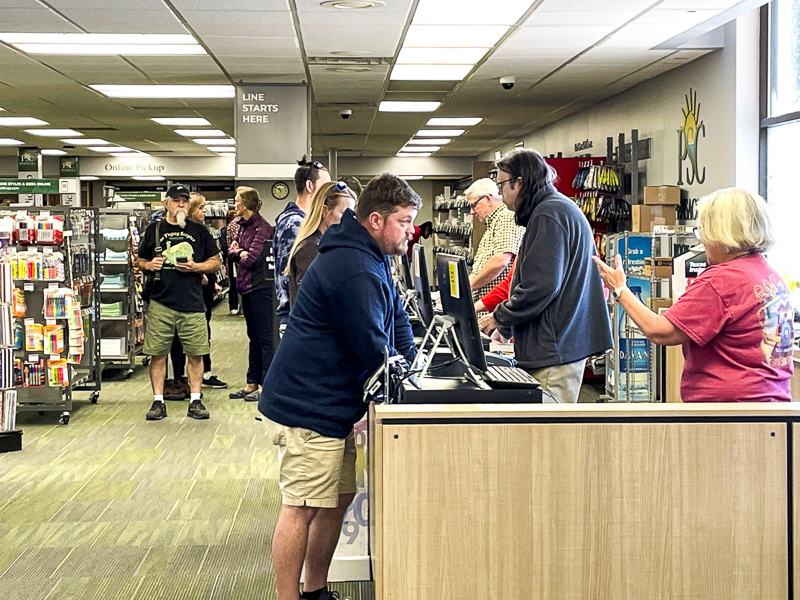 U.S. Navy veteran Tyler Martin started his first college semester on Monday. He wasn't quite sure where to go and what to expect on his first day – he's a Pensacola State College welding student hoping to earn a career certificate – so he attended an orientation session last week.
"This is my first time in college,'' he said. "I'm excited. I want to be a welder and then get the commercial driver's license. I want to learn it all."
There was no need for an orientation for returning Pensacola State College student Vic Dixon. He even knew to be in the gazebo between Buildings 5 and 6 around lunchtime because that's when the Baptist Campus Ministries – one of PSC's many clubs and organizations – hosts a free cookout. (It's from 11:30 a.m. to 1 p.m. every Monday when classes are in session. Food and beverages are provided.)
"Oh yeah, I'm just waiting for them to start serving the food,'' Dixon said of the folks grilling burgers and hot dogs.
Big crowds at the gazebo on a sunny day were just one sign that a new semester had started.
Across the Pensacola campus – and we're sure it was the same at all campuses and centers – there was plenty of activity, from long lines in the bookstore to packed parking lots and, on occasion, a new student trying to find a classroom or building – and sometimes the right campus.
English and Communications Department Head Tracy Peyton helped a student having trouble finding her classroom. Peyton looked at the student's schedule.
"That's on the Milton campus,'' Peyton said. "Do you want to take the class on this campus?''
The student definitely didn't want to drive to Milton so Peyton whisked her into the office right away to make the class change.
Still, whether first-time student or returning student, all have their own goals and reasons for attending PSC.
For Dixon, a cybersecurity student, it's to be part of a growing, well-paying field that is a force for good, he said.
"Cybersecurity is something that helps the whole country,'' he said. "I was always good in technology, but I've learned a lot from my teachers since I've been here. They've helped me develop in the field."
For Martin, he's aiming for a welding career certificate, followed by a truck driving certificate. And yes, PSC teaches both.
"I will probably do the welding first because I want to get those certificates,'' Martin said. "That's what companies are looking at and that's how you get more money."
If you want to attend classes in the spring 2023 semester, there's still time. The semester is divided into four sessions:
Session A (Jan. 9 -May 9): Students can register for Session A classes through Friday, Jan. 13.
Session B (Jan. 9-March 7): Registration is closed for session B.
Session C (Jan. 31-May 9): Students can register for Session C classes through Friday, Feb. 3.
Session D (March 8-May 9: Students can register for Session D classes through March 9.
For more information, go to www.pensacolastate.edu.