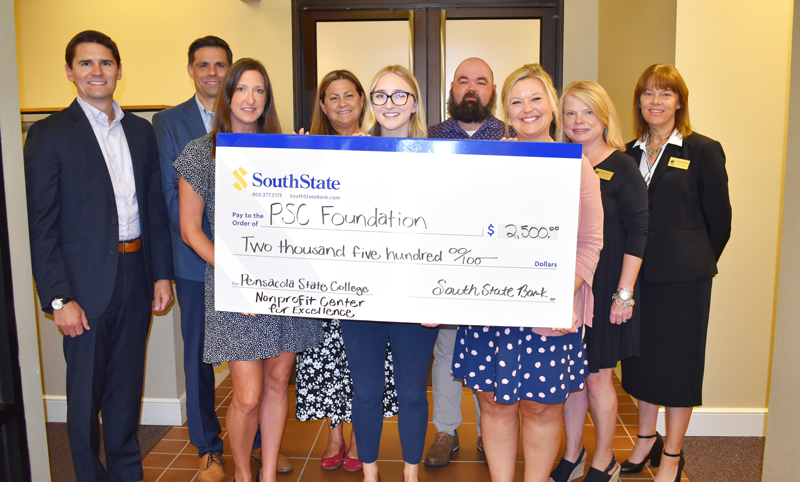 SouthState Bank strives to help and support the residents and the communities it serves.
Furthering that commitment, SouthState Bank's donated $2,500 to Pensacola State College Foundation's Nonprofit Center for Excellence and Philanthropy on Thursday, July 14.
The Nonprofit Center strengthens nonprofit and philanthropic organizations by providing education, training and management to support and help expand the organizations' influence.
"One of the things that is evident (about SouthState Bank) is the fact that they care about nonprofits, and they value the contributions nonprofits make to the community at large,'' said Andrea Krieger, PSC Executive Director of Institutional Development. "This donation is a validation of our work and a validation of the importance of providing training opportunities for nonprofit professionals."
Charles Sherrill III, SouthState Bank Market Executive Senior Vice President, said the financial institution was proud to grow its partnership with the College by supporting the Nonprofit Center.
"The Nonprofit Center is an incredible resource to nonprofit professionals and volunteers, and we are excited to serve alongside (PSC) to help strengthen business and finance practices within those organizations," noted Sherrill who also is a PSC Foundation Governor.
Sherrill pledged that SouthState Bank executives would offer training and mentoring to Nonprofit Center partners in the future.
"Whatever we can do to help,'' he said. "We're excited about this partnership."
Based in Winter Haven, SouthState Bank has three branches in Escambia and Santa Rosa counties – one each in Pensacola, Milton and Pace.
For more information on the Nonprofit Center for Excellence and Philanthropy, visit https://npc.pensacolastate.edu/.