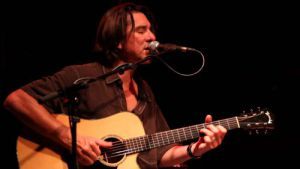 Published: 11-21-2017
Soul-howling, southern rock guitarist, Mike Cooley performs a solo concert at 7:30 p.m. Saturday, Dec. 2, at Pensacola State College's Ashmore Fine Arts Auditorium, Building 8, on the Pensacola campus.
Best known as the co-founder of Drive-By Truckers along with Patterson Hood, Cooley has proved his mettle as a master songwriter, singer and guitarist whether solo or with a band for more than 30 years.
After spending much of his young life scrapping in the rock 'n roll trenches, Cooley has become one of the best composers of his generation. Not shying away from current issues, his lyrics can be outspoken and hard-edged, yet always finely honed.
Described as rock 'n roll incarnate – Mick and Keith rolled into one impossibly cool, guitar rattlin' ball of genuine unapologetic grit and swagger – Cooley's concerts also feature intimate acoustic ballads where he tosses aside this guitar pick and fingerpicks almost everything.
Whether performing solo or with Drive-By Truckers, Cooley has been featured by national media such as Rolling Stone, New York Times, National Public Radio and CBS Morning News. Touring extensively with DBT, Cooley offers limited solo concerts and has included Pensacola State College before he heads to California for engagements in San Francisco, Los Angeles and Mill Valley.
Tickets are $11, reserved admission; $9, seniors, non-PSC students and children; $7, PSC Alumni Association, PSC Seniors Club, PSC faculty and staff; and free for PSC students.
Purchase tickets online at www.pensacolastate.edu/lyceum or at the Lyceum Box Office, Building 8, Room 861, from 8:30 a.m. to 4 p.m. Monday – Friday. Tickets also are available at the door one hour before a performance.
For reservations or more information, call the Lyceum Box Office at 850-484-1847.