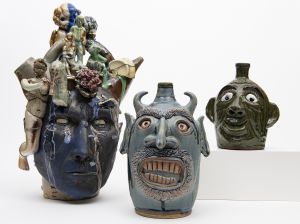 Published: 05-19-2021
Troy Moon, Pensacola State College
The styles are similar, but the journey to the finished product is far removed.
Well-known potters such as Peter Lenzo, Steven Dark, Ashan Pridgon and Pensacola State College ceramics instructor Micah Cain are academically-trained artists. Yet their works share themes, styles and gallery exhibit space with pieces by self-taught artists from the hill-and-mountain folk of Southern Appalachia.
Many of these pottery pieces are now on display at the Pensacola State College Anna Lamar Switzer Center for Visual Arts. The exhibit, "Legacy of Earth: An Exploration of Traditional Southern Pottery," runs through July 15.
"I'm really happy with the way this exhibit has turned out," said Michelle Schulte, Gallery Director/Chief Curator of The Anna Lamar Switzer Center for Visual Arts. "We have a great mixture of contemporary artists who have been academically trained and artists who learned from family members who passed it down or taught themselves."
One of the surnames consistently seen in the exhibit is one of the most celebrated names in Southeastern folk art circles: Meaders.
The Meaders family out of North Georgia is known as perhaps the most influential family in the history of Southern Appalachian folk pottery. The family's artistic legacy dates to the late 1800s when the Meaders began using the rich clay near their struggling North Georgia farm to produce and sell handcrafted jugs.
Best-known among the Meaders was and is third-generation potter Lanier Meaders, who was best known for his face jugs, which are celebrated and sought-after today. His work is exhibited in the Smithsonian and numerous museums across the world. In 1981, Smithsonian Folklife Studies published the book "The Meaders Family – North Georgia Potters." Lanier Meaders died in 1998 at age 80.
His "Green Face Jug" is included in the "Legacy of Earth" exhibit as are pottery pieces by more than a dozen other Meaders family members. Two dozen other folk artists are represented in the exhibit.
The pottery pieces are on loan from the Betty Foy Sanders Department of Art at Georgia Southern University.
The Anna Lamar Switzer Center for Visual Arts is open from 9 a.m. to 6 p.m. Monday through Thursday. There is no admission fee.
Details: https://visualarts.pensacolastate.edu/.