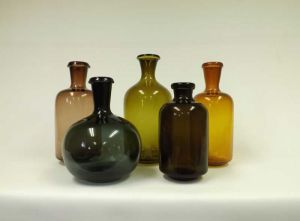 Published: 05-10-2016
"Some Like It Hot," a spectacular glassworks exhibition, runs May 23 through July 21 at Pensacola State College's Anna Lamar Switzer Center for Visual Arts, Building 15, at the corner of Ninth Avenue and Airport Boulevard.
The Gallery is free and open to the public, including a reception for the artists from 6 to 8 p.m., Thursday, June 2. Gallery hours are 8 a.m. to 9 p.m., Monday through Thursday. Tours are available with prior arrangements.
This summer's invitational exhibit represents a selection of what is current in the art of glass blowing from the southeast region of the United States, according to PSC Gallery Director Vivian Spencer.
Featured in the exhibition are works by Devan Cole from Georgia, Ben Dombey from Louisiana, Joe Hobbs from Florida, David King from Virginia, John Shoemaker from Florida, Phil Vinson from Georgia, Rachel Wright from Alabama, and Thoryn Ziemba from North Carolina.
"The work of these eight artists is as varying in content and technique as their personalities," Spencer says. "Yet at the heart of their work is the passion for working in the fluid medium of molten glass, expertly crafted into sculptural and functional works of art."
In 2015, PSC began offering glassblowing classes at First City Art Center in downtown Pensacola. Students have the opportunity learn the art of glassblowing from a master artist serving as a PSC instructor and Glass Art Fellow at First City Art Center. This year's instructor and Glass Fellow is John Shoemaker whose work is included in the exhibition.
For more information, call PSC Gallery Director Vivian Spencer at 850-484-2550.