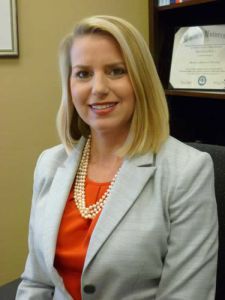 Published: 11-07-2016
Dusti Sluder has been named dean of Pensacola State College's Warrington campus.
Sluder had worked as a faculty member and served in various administrative positions on the campus. She took over as dean on Sept. 1.
A longtime Pensacola resident, she also earned her licensed practical nursing (LPN) and registered nursing (ADN) degrees from Pensacola State.
After Pensacola State, Sluder continued her education at the University of South Alabama where she received her Bachelor of Science in Nursing. She earned her Master of Science in Nursing from Walden University, and a Doctorate of Nursing Practice degree from Duquesne University in August 2014.
She worked as a registered nurse at Sacred Heart Hospital and Santa Rosa Medical Center for several years before going back to Pensacola State as an adjunct professor from 2006-2008. Since that time, Sluder has worked as interim director of nursing, director of nursing and assistant dean of the Warrington campus.
Pensacola State President Edward Meadows describes Sluder as one of the college's brightest stars.
"She was an outstanding Pensacola State student. As a faculty member, she was respected by her colleagues and loved by her students. As an administrator, she fulfilled her duties and responsibilities but also made time for our students. In her new position, I have no doubt that she will continue to go over and beyond for the college," he said.
Active in the community, Sluder is a member of the Health Services Advisory Council which serves Escambia and Santa Rosa counties, the Florida Council of Nurse Educators and Administrators, and is a 2012 graduate of Pensacola State College's President Leadership Institute.
For more information, contact Sheila Nichols at 850-484-1428 or snichols@pensacolastate.edu.