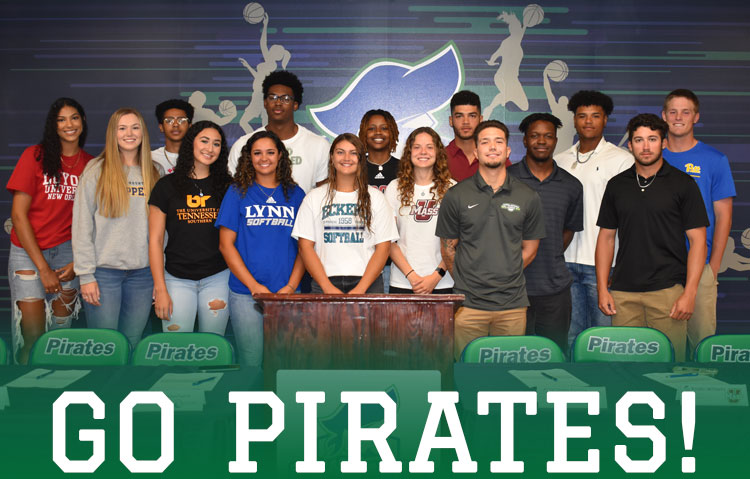 By Troy Moon
Pensacola State College
This is the way it's supposed to be. This is the grand plan fulfilled.
Sixteen Pensacola State College student-athletes signed National Letters of Intent on Friday, April 29, committing to play and study at colleges and universities that range from NAIA schools to Division 1 programs.
The signing ceremony was held in a packed Donn Peery Room at Hartsell Arena on the Pensacola campus, attended by teammates, family members, PSC coaches and coaches and representatives from the various schools the student-athletes will attend.
"I think one of the things we do the greatest job of here at PSC is preparing them for the next level,'' said PSC Athletic Director and baseball coach Bryan Lewallyn. "These student-athletes sitting here have put in the work and will be successful at the next level. But it's not just their athletic accomplishments, but what they've done while they are here. They have served our community in many capacities." He noted that PSC athletes from all teams helped in storm recovery and worked to help assist various non-profit organizations during the 2021-2022 seasons.
Lewallyn said he expects many more PSC players from the various teams to sign to play at the next level over the next few weeks.
Of the 16 PSC student-athletes who did sign on Friday, six are heading to Division 1 schools, seven to Division II programs and three to NAIA schools.
PSC Associate Athletic Director and softball coach Lyndsey Angus had two of her players sign National Letters of Intent – Avery Beauchaine, who will play at Eckerd College in St. Petersburg, Florida, and Cameron Buzzell, who will play at Lynn University in Boca Raton, Florida.
The PSC softball team recently won its second consecutive Panhandle Conference title and will begin state championship play on May 6 in Sanford, Florida.
"We've been able to grow this program and get to where we are with back-to-back conference championships because of people like them,'' Angus said of Beauchaine and Buzzell. "Then don't just work hard for the program, but they actually come through in all aspects of their lives."
Basketball player D'Anthony Pennington signed to play at the historic Tuskegee University in Alabama. He'll always be grateful for what PSC has done for him.
"PSC got me ready for a lot of things I didn't think I was ready for,'' he said. "The coaches, teachers, everyone really supported me. I'm just thankful."
Here is the complete list of PSC student-athletes who signed National Letters of Intent on Friday:
Softball
Avery Beauchaine, Eckerd College, St. Petersburg, Florida. D2
Cameron Buzzell, Lynn University, Boca Raton, Florida. D2
Baseball
Bayron Acevedo, University of New Orleans, New Orleans, Louisiana. D1
Jovanni Canegitta, Valdosta State University, Valdosta, Georgia. D2
Jake Cohen, University of West Florida, Pensacola. D2
Mason Manriquez, University of South Florida, Tampa, Florida. D1
Darrien McDowell, University of West Florida. Pensacola. D2
Jack Sokol, University of Pittsburgh, Pittsburgh, Pennsylvania. D1
Jeffrey Wilson, Troy University, Troy, Alabama. D1
Women's Basketball
Tai'Sheka Porchia, Troy University, Troy Alabama. D1
Kristin Williams, University of Massachusetts, Amherst, Massachusetts. D1
Men's Basketball
D'Anthony Pennington, Tuskegee University, Tuskegee, Alabama. D2
Paul Smith, Mississippi College, Clinton, Mississippi. D2
Volleyball
Amaya Bazemore, Loyola University New Orleans, New Orleans, Louisiana. NAIA
Sophia Ortega, University of Southern Tennessee, Pulaski, Tennessee. NAIA
Katie Rutland, Blue Mountain College, Blue Mountain, Mississippi. NAIA