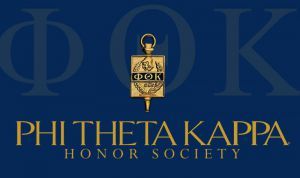 Published: 03-30-2021
Troy Moon, Pensacola State College
The 2021 All-Florida Academic Team includes six Pensacola State College students who are not only scholars, but valuable campus leaders and community servants.
The Academic Team features 137 students from 28 colleges that make up the Florida College System, which includes Pensacola State.
The PSC students chosen for the All-Florida Academic Team and their fields of study are:
• Stefhan Al-Bayaty ─ Mathematics
• Kevin Huang – Computer Information Technology
• Brandi Lowery – Architectural Design
• Shayna Payne – Pre-Engineering
• Julia Riser – Pre-Physical Therapy
• Steven Wood ─ Cybersecurity
The All-Florida Academic Team will be recognized at a virtual awards ceremony on April 23. Members of the team are eligible to be selected for the All-USA Academic Team which is sponsored by the Phi Theta Kappa International Honor Society.
Students applied for the team online and afterward, nominators from the 28 Florida College Systems schools picked the team representatives. Jeff Wooters, Pensacola State biology instructor and Phi Theta Kappa advisor, was one of the PSC nominators.
Students were selected based on academic achievement, leadership and community service. Students needed to have a 3.5 grade point average or higher to qualify.
"These students have not only excelled academically, but they have to be well-rounded and active on campus," Wooters said. "I think it's great that we have students who get involved, especially at a time when there has been so much anxiety and uncertainty. It's easy to take classes then sit around and do nothing. It takes a lot of effort to go beyond what's expected and be an active participant in the College and the community."
All of the Pensacola State students chosen for the All-Florida Academic Team are members of Phi Theta Kappa.
Julie Riser graduates from PSC in May and will attend the University of West Florida on a scholarship in the fall. She's studying pre-physical therapy at PSC and plans to earn either study psychology or physical therapy at UWF. But that's just part of her PSC resume. Riser is a work study student and president of the Theta Chi chapter of Phi Theta Kappa. She is also president of the Robinson Honors Program and the TRIO Student Support Services Club.
She wasn't even aware she was selected for the All-Academic Team until a friend posted the news on Facebook.
"It was kind of crazy," Riser said. "I'm just a typical geeky college student."
She admits, all her activities and studies keep her busy.
"But it's really awesome to be able to be involved in what's happening at PSC," Riser said. "PSC opens up a lot of pathways for students and has been a great learning experience for me and really prepared me for the transfer to a larger university."