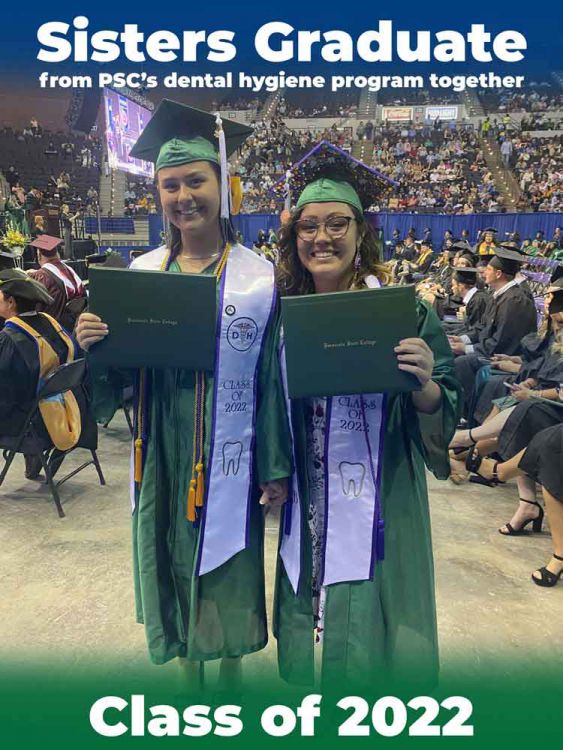 For most of their lives, sisters Brittany Burleson and Alicia Stephens have been best friends who did many things together.
On Sunday, May 8, the two graduated from Pensacola State College with their Associate of Science degrees in Dental Hygiene.
"We both were accepted into the program at the same time and went through everything together," said Burleson, 30. "We're like the best of friends, we've always been really close. I told Alicia I was going to enroll in PSC's dental hygiene program and encouraged her to do the same."
The two sisters were among the hundreds of Spring and Summer graduates to receive their degrees, certificates and diplomas at the College's Spring 2022 Commencement ceremony held at the Pensacola Bay Center.
The College's longest-service District Board of Trustees member Carol Carlan, president of the Ascension Sacred Heart Foundation, was the keynote speaker and offered some life lessons and wisdom to the graduates.
"Continue to grow and develop yourself. You are never too old to learn," said Carlan, a PSC alumna and CEO of Carlan Consulting. "Donate! Donate your time, your talents, your resources and your imagination to leave something better than you found it. Giving back is something important to building pride in who you are."
Stephens, 25, said she was inspired by Carlan's address and plans to give back. She also was also thankful to Brittany for encouraging her to enroll in the dental hygiene program.
"The entire ceremony was wonderful, but the greatest moment was when my sister and I walked across that stage to receive our degrees," Stephens recalled.
"Throughout the dental hygiene program, it was comfortable being with my sister. I never felt alone. We studied together, went through clinicals together and even attended a dental hygienist conference in Orlando together."
The sisters said the end of their Pensacola State journey felt surreal.
"It was so emotional for both of us, it was hard not to cry," Stephens shared. "Just to be in that moment and living it, we were both so happy."
The sisters both have secured full-time employment with Aspen Dental.
PSC voice student Rachael Thacker sang the national anthem with District Board of Trustees member Patrick Dawson welcoming attendees to the commencement ceremony.
Charles Schuler, PSC humanities and social sciences professor, served as the ceremony's Grand Marshal. Michael Payne, assistant professor of business, and Kenneth Phillips, the Performing Arts department head, were Faculty Marshals. Jennifer Hill Faron, dean of the Milton campus, and Karen McCabe, principal of Pensacola State College Charter Academy, were Student Marshals.
Graduates earned Bachelor of Applied Science, Bachelor of Science in Nursing, Associate in Arts and Associate in Science degrees, Technical Certificates and Career Certificates, and Applied Technology Diplomas at the ceremony.