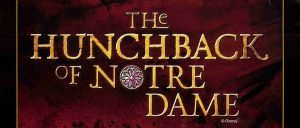 Published: 07-17-2018
More than 30 local high school students will be featured in Pensacola State College's 28th annual Summer High School Onstage Workshop production of "The Hunchback of Notre Dame."
Set to be staged July 20-22 and July 27-29, Friday and Saturday performances are 7:30 p.m. and Sunday matinees are 2:30 p.m. in the Ashmore Fine Arts Auditorium, Building 8, on the Pensacola campus.
Based on Victor Hugo's novel and songs from the 1996 Disney film, the SHOW production of "The Hunchback of Notre Dame" is a two-act play. It features music by Alan Menken with lyrics by Stephen Schwartz, and is based on Peter Parnell's children's book.
Booker T. Washington High student Mateus Cardoso has been tapped for the lead role of Quasimodo, a kindhearted hunchback who falls in love with Esmeralda, a gypsy girl played by Daisy Talbert. Talbert is a graduate of East Hill Christian School.
Other cast members include:
East Hill Christian: Clay Knighten and Claire Miller
Home School: Daisy Brustad and Brianne LaPoint
Jay:  Valarie Godwin and Ashlynn Rawls
Navarre:  Miranda Burnett
Pace: Caleb Beeks and Anna Morgan
Pensacola: Lauren McConkey, Cameron Michles, Marley Reynolds and Madison Spradlin
Pensacola Catholic: Christina Bartlinski
Pensacola Christian Academy: Mischel Johnson
Pine Forest: Aaliyah Crenshaw
PSC Collegiate High: Cristina Fabbro
Tate: Trey Morgan
Washington: Oliviah Ballenger, Laura Connally, Delaney Dean, Nathaniel Holzknecht, Tristan Hunter, Olivia Johnson, Ashley Johnston and Sarah Scott
West Florida: Katelin Kaplan, Ciera McDonald and Ethan Middleton
West Florida Baptist Academy: Emily Anthony and Mercedes Riojas
The production team includes Laura Sebastian, director; Emma Powers and Jennifer Godwin, associate directors; LaVonne French, costume designer; Michael Dennis, choreographer; Tina Buran, musical director; Bob Gandrup, technical director; and Louise Harris, assistant choreographer.
SHOW is a tuition-free theatre program for high school students offered by Pensacola State each summer since 1991.
Tickets are $16 and available online at www.pensacolastate.edu/mt and at the Lyceum Box Office, Building 8, Room 861, from 8:30 a.m. to 4 p.m. Monday-Thursday and one hour before each performance. For ticket reservations and information, call the Lyceum Box Office at 850-484-1847.