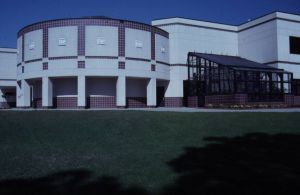 Published: 04-15-2016
See the splendor of the universe at Pensacola State College's Planetarium and Space Theatre Friday, April 15 with public shows beginning at 6 and 7:30 p.m.
Located in Building 21 on the Pensacola campus, the planetarium is handicapped accessible and is showing:
• 6 p.m., "From Earth to the Universe" followed by "Pirate Nights," a live night-sky presentation outside, weather permitting
• 7:30 p.m., "Pink Floyd's Dark Side of the Moon"
"From Earth to the Universe" runs 30 minutes and appeals to children in fourth grade to adults. It is a stunning voyage through space and time conveyed through sparkling sights and sounds. See colorful birthplaces and burial grounds of stars, and the immensity of galaxies beyond the Milky Way. Explore the history of astronomy, the inventions of the telescope, and see today's giant telescopes that allow us to probe ever deeper into the universe.
"Dark Side of the Moon" runs 40 minutes and appeals to adults. Lose yourself in Pink Floyd's legendary rock 'n' roll masterpiece, enhanced by PSC's high-definition, full dome video system. Surround sound and mesmerizing images create an unforgettable experience. More than a laser show, it's a totally new digital revolution in sight and sound.
Doors open 20 minutes before show times. No one is admitted after the show begins.
Tickets must be purchased in advance; no ticket sales at the door.
Tickets are $4, preschoolers; $5, grades K-12; and $6, adults. All tickets to "Dark Side of the Moon" are $6.
Purchase tickets at the Lyceum Box Office, Building 8, Room 861, from 8:30 a.m. to 4 p.m., Monday through Friday or online at http://planetarium.pensacolastate.edu/.
For ticket information, call the Lyceum Box Office at 850-484-1847.