Published: 11-22-2022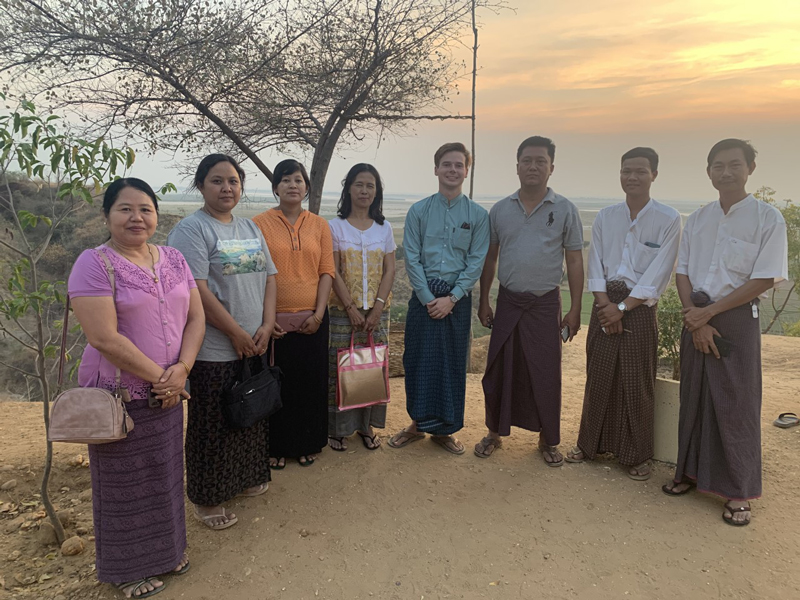 Don't misunderstand. Scott Emerline really enjoys his new position as a Pensacola State College recruiter. But he would love to go back to the Southeast Asian country of Myanmar.
Emerline, a University of West Florida alumnus and English major, joined the PSC team in October. But for the first three months of 2020, Emerline lived in Myanmar working as a Peace Corps volunteer teaching English to, mostly, children. He arrived at the beginning of the year but in March, well, COVID-19 happened.
"I got an email that said I had 72 hours to get out of Myanmar,'' said Emerline, a North Alabama native who moved to Pensacola to attend UWF.
"I was interested in the culture and was interested in Myanmar ever since watching the first episode of 'Anthony Bourdain: Parts Unknown' when he visited there. It's a whole different world and I was really happy to be there."
Myanmar, formerly Burma, is a lush, biodiverse country and former British colony which gained independence in 1948. Since then, the country has been largely entangled in political strife. The country was under strict military rule from 1962 until 2010 when free elections and some reforms took place.
Emerline was hoping to maybe return to Myanmar once COVID-19 faded. However, in February 2021, the country once again fell to the military in a coup.  Now, even his intermediate level Burmese – the official language – has faded.
"I waited for a year to go back and the recent coup happened,'' he said. "It's a shame because other than the military, it's a beautiful place with beautiful people. I would be there right now if I could."
Still, Emerline is doing meaningful work at Pensacola State, where he helps recruit Santa Rosa County high school students.  Emerline said he wished he had the opportunity to attend Pensacola State when he began his college career in 2016, but PSC didn't begin offering discounted tuition rates to Alabama residents until later.
"If PSC had offered (discounted rates) I would have come here to start off,'' he said. "I would have paid about half the price and that would have made a huge difference."
He tells potential students the same thing, stressing the College's affordability along with its quality academic offerings.
"I tell students that a lot of the adjunct professors they'll have at UWF also teach lower level classes at PSC,'' Emerline said. "There are just so many benefits to starting here."
While at UWF, he was president of the Sigma Tau Delta English Honor Society and graduated with a 3.54 grade point average.
Emerline enjoys hiking, camping, running and competing in ultramarathons – races longer than a traditional marathon of 26.2 miles.