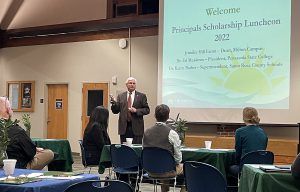 Published: 03-10-2022
Troy Moon, Pensacola State College
The high school principals and guidance counselors who attended the information session luncheon at the Pensacola State College Milton campus on March 2 probably didn't expect there would be a quiz. Actually a few quizzes.
Good thing they were taking notes.
Principals and guidance counselors from 12 Santa Rosa County School District attended the annual Principals Scholarship Luncheon and heard plenty of solid and specific information about admissions, scholarships and financial aid from Pensacola State administrators, including PSC President Ed Meadows.
At the end of information segments, PSC speakers would quiz the group about the topics – admissions and financial aid deadlines, scholarship information. Winners – and there about a dozen – received PSC swag, including cool beach towels and swanky umbrellas.
Most of the principals and counselors had been jotting down information anyway, eager to hear about opportunities Pensacola State has for their students.
Central High School Principal Sean Twitty noted many of his students take dual-enrollment classes at the Milton campus.
"It's great for our students because they get to start college early and really get a good foothold on their future," Twitty said. "It's a great place to start your college career. It's affordable, which is great for parents and students."
PSC Milton campus Dean Jennifer Hill Faron noted that many Santa Rosa high school students already are dual-enrolled at campuses, including the Milton campus and South Santa Rosa Center in Santa Rosa County.
Santa Rosa County also will be home to the $7.8 million PSC Truck Driver Training Facility in Santa Rosa Park East in rural East Milton. Classes at the new facility are expected to begin in late summer.
More than 1,600 Santa Rosa County high school students are dual-enrolled annually at PSC. High school students who are dual-enrolled pay no tuition or book fees.
"We have a large dual-enrollment population from a majority of these schools," Hill Faron said of the represented schools. "This is another way to get the word out about what we have to offer at PSC. We get to show off our programs and our scholarships and what we can offer their students and they can take that information back to their students."
Michael Johnston, PSC Associate Vice President Institutional Research and Management Information Systems, said low fees are always a positive when trying to recruit students.
Among first-time college students taking more than 12 credit hours at Pensacola State, 95 percent graduate debt free and 68 percent receive some type of financial aid, including scholarships and grants.
"We have a huge portion of our students that pay nothing," Johnston added. "The others pay far less than they would at any other educational institution. PSC students leave and come out with opportunities instead of debt."