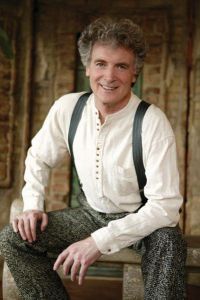 Published: 02-22-2017
Irish storyteller Tomaseen Foley brings to life Ireland's cultural heritage at 7:30 p.m., Friday, March 10 at Pensacola State College's Ashmore Auditorium, Building 8, on the Pensacola campus.
Along with Celtic musicians, singers and dancers, Foley revisits the memories of traditional Irish gatherings at weddings, wakes and solstice celebrations. Using instruments like uilleann pipes, fiddles, tin whistles and flutes, the professional troupe produces a rousing evening of fiery music, stirring ballads, foot-stomping dances and, of course, stories.
Called the Garrison Keillor of Ireland, Foley grew up on a small farm in the remote parish of Teampall an Ghleanntáin in the 1950s.
"Irish culture springs up from the ordinary people – farmers, fishermen, blacksmiths, spinners and weavers – and it expresses the vitality, the joy and the resiliency that is the bedrock of their lives," Foley said. "I witnessed and was part of much of the joy and innocence and great good humor I try to bring to my shows."
Tickets are $11, general admission; $9, seniors, non-PSC students and children; $7, PSC Alumni Association, PSC Seniors Club, PSC faculty and staff; and free for PSC students.
Purchase tickets online at www.pensacolastate.edu/lyceum or at the Lyceum Box Office, Building 8, Room 861, from 8:30 a.m. to 4 p.m., Monday through Friday. Tickets also are available at the door one hour before a performance.
For reservations or more information, call the Lyceum Box Office at 850-484-1847.