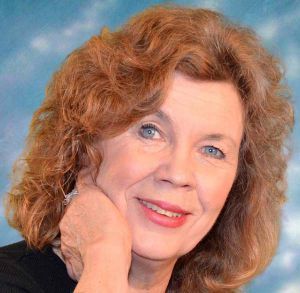 Published: 03-14-2017
Rheta Grimsley Johnson brings humor to Book Talk March 15
Pull up a chair and get ready to be entertained as Rheta Grimsley Johnson recalls the friendship of old dogs as well as old-style country music by Hank Williams, Tom T. Hall, and other Grand Ole Opry icons at her Book Talk at 2 p.m. Wednesday, March 15, in the Chadbourne Library on the Pensacola campus.
An award-winning syndicated columnist and author, Johnson began as a humble and hard-working newspaper reporter/publisher, moved to the big leagues in Memphis and Atlanta (replacing the late Lewis Grizzard as the Atlanta Journal-Constitution's human interest columnist), and has maintained her career as a syndicated columnist and author for many years.
PSC English and Communications Professor Thom Botsford has known Johnson since they were journalism students at Auburn University and says she has good advice for anyone writing memoirs, histories, or autobiographies to pass along to family, friends and the public.
"I first knew Rheta as a nervous freshman reporter for the Auburn (University) Plainsman, someone who caught my editorial eye immediately with her talent for memorable details," he said.
"Not many writers can make their pet memories come to life as Rheta does. In her latest book, The Dogs Buried Over the Bridge, she tells the story of twin hound dogs who were inseparable. When one was run over on a peaceful country road, the other grieved intensely, howling into the night as he lay atop his brother's burial spot in the hayfield. He soon disappeared, never to return."
"Stories like these make Rheta's work fresh and engaging, if heartbreaking at times."
The public is welcome to this free, informal event.
For more information, call the Chadbourne Library at 850-484-2013.