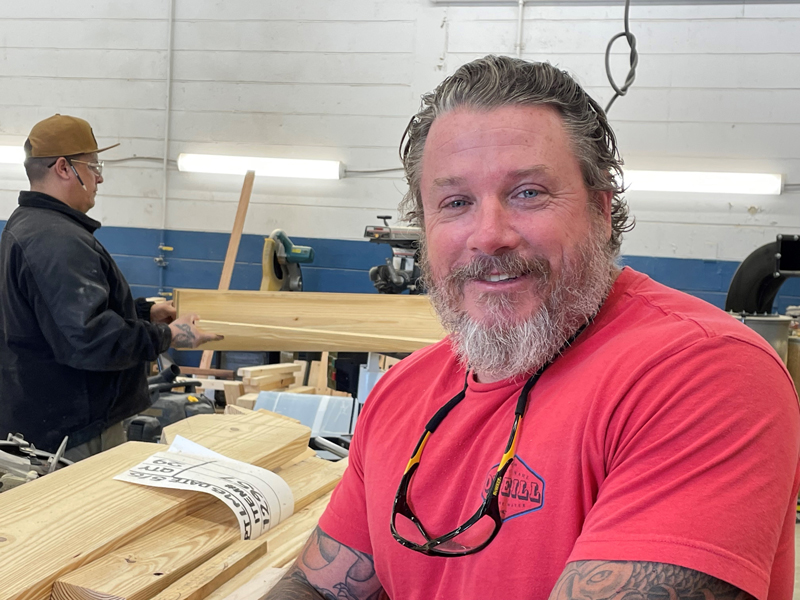 Shaun Garner is a retired U.S. Navy Diving Medical Technician. He's trained to come to the rescue in life and death situations.
Garner made a rescue at Pensacola State College in August, but it wasn't of the life and death variety. It was pretty important though.
Garner is the new PSC Carpentry Program coordinator, replacing former Tony Grahame who left this summer to pursue an opportunity with his son.
After retiring from the Navy in 2014, Garner worked as a carpenter with a friend remodeling and repairing homes across Northwest Florida and parts of Alabama.
"He's a leader who had a willingness to step in and take control of the program and I know he has a desire to make it even better,'' said Mike Listau, PSC Workforce Education Director. "He's a good fit with his background. Students seem to definitely like him and his teaching style. He's already had a student nominate him (for PSC Academy of Teaching Excellence)."
Garner, a burly, friendly fella, is only in his first year of teaching at PSC, but already feels at home overseeing the carpentry program, which recently made the local news for its ground-up construction of a state-of-the-art and environmentally-friendly mini-house near downtown Pensacola.
Both Listau and Garner expect the program to continue working on unique community betterment projects.
"The way I see it, this program can truly help the community,'' Garner said. "It helps by training students to be builders who then go out and apply what they've learned. We can also help by working on projects like the mini-houses. Right now, we're working on porches for the Council on Aging."
The PSC program offers students a chance to earn a Vocational Certificate in Carpentry. The three-term 1,200 clock-hour program can lead to National Center for Construction Education and Research (NCCER) certification.
In the first term, students take three courses ─ Introduction to Craft Skills, Introduction to Carpentry and Building Layout and Foundations. In the second term, students take Carpentry Rough Framing and Carpentry Exterior Finishes. The final term consists of one 300-credit hour course: Interior Finish and Trim.
Students also gain advanced carpentry certificates including the NCCER Craft Trade Certificate in Carpentry, OSHA10 Safety Credentials and the CPR/AED/FA Certificate.
Student Alyson Lamon is a first-semester student. A U.S. Air Force veteran, Lamon is hoping to take a variety of building classes – carpentry, plumbing, HVAC – so she and her husband can build and remodel homes together.
"He's really good and helps you feel confident about what you're doing,'' she said. "In this class, we're going to do some metal framing and all sorts of cool stuff. It's a great program because we want to learn all the trade and be our own bosses."
Garner said the program is open to all, no matter their experience with tools ─ or lack thereof.
"I've got people who come here and know what they're doing in some cases,'' Garner said. "And I've got students who've never touched a tool. But they have a willingness to learn. That's the best part of the program for me."
Garner and his wife Tabitha have three boys, ages 18, 23 and 24. In his spare time, Garner enjoys surfing and the water.
"I was a diver for 20 years,'' he said. "If I'm getting my gills wet, I'm happy."