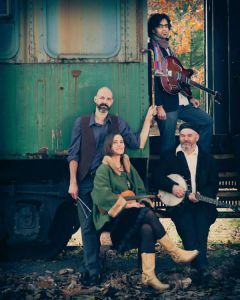 Published: 01-26-2017
From bluegrass barnstormers to bluesy folk-rock to sultry swing, Rani Arbo and daisy mayhem perform at 7:30 p.m., Saturday, Jan. 28 at Pensacola State College's Ashmore Auditorium, Building 8, on the Pensacola campus.
Harmony, rhythm and indelible songs are the hallmarks of the New England based folk quartet composed of Rani Arbo on fiddle and guitar; Andrew Kinsey on bass, banjo and ukulele; Anand Nayak on electric and acoustic guitars; and Scott Kessel on percussion.
With Arbo's unmistakable light and sultry voice complemented by Kinsey and Nayak's vibrant baritones and Kessel's resonant bass, the band's signature lockstep harmonies can shake the rafters or hush the room.
While blurring the boundaries of American roots music, Rani Arbo & daisy mayhem consistently turn in lush arrangements with stylish, unexpected choices. Original songs fit seamlessly aside artful re-workings of Hank Williams, Leonard Cohen, Bruce Springsteen – just a few of the many places this band is willing to go.
Tickets are $11, general admission; $9, seniors, non-PSC students and children; $7, PSC Alumni Association, PSC Seniors Club, PSC faculty and staff; and free for PSC students.
Purchase tickets online at www.pensacolastate.edu/lyceum or at the Lyceum Box Office, Building 8, Room 861, from 8:30 a.m. to 4 p.m., Monday through Friday. Tickets also are available at the door one hour before a performance.
For reservations or more information, call the Lyceum Box Office at 850-484-1847.