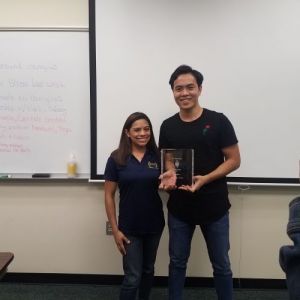 Published: 03-20-2018
Pensacola State College's Theta Chi chapter of Phi Theta Kappa was named a Five Star Chapter at the annual Phi Theta Kappa – Florida 2018 Regional Convention held March 2-4 in Tampa.
"It was such an honor to receive this award from our peers," said Amber Carey, Pensacola State's Theta Chi chapter adviser. "All or our student-members work very hard to make the Theta Chi chapter one of the best PTK groups in the state. We are very proud."
Phi Theta Kappa chapters have five levels of engagement that progress from local, campus involvement to regional involvement to international involvement. The Five Star Chapter Plan is the roadmap guiding the chapter through the levels. Chapters use the Plan as a guide for building a strong, active chapter.
Also, Cong Nguyen won Best Short Story in the Creative Writing category for his short story, "The Dreamy Journey in a Dream."
Theta Chi members also presented a workshop on how to increase social connectedness on campus to students and advisers at the convention.