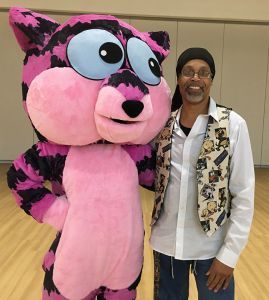 Published: 12-15-2021
Troy Moon, Pensacola State College
Troy Watts knows if his creation "Dribbles the All-Knowing Cat" is doing its job in educating children.
He uses a small focus group to gauge reaction from the target audience – children from newborns through 6 years of age.
"My 2-year-old daughter Sheena is my go-to person,'' said Watts, a Pensacola State College graphic design student who will earn his Marjan Mazza Bachelor of Applied Science in Business and Management – Graphic Design Management concentration – in spring 2022.
"If I have a new Dribbles' song or video, I'll run it by her. If she doesn't like it, she'll go 'No, no, no' and walk away. If she likes it, she'll start dancing to it."
Watts has envisioned, designed the animated character "Dribbles the All-Knowing Cat,'' a franchise that uses music, videos, books and more to teach children about their health, as well as focusing heavily on STEM and STEAM (Science, technology, engineering, arts and math) subjects. The line also includes plush toys and coloring books.
"I started this for kids,'' said Watts, who earned his Associate of Arts degree from Pensacola State two years ago. "I have a passion for children's education. Children need more educational content, so I created Dribbles before I knew anything about graphic arts. That why I got into the graphic arts program – to get it started."
Watts has authored three "Dribbles the All-Knowing Cat" books that are available on Amazon – "Questions, Questions, Questions," "ABC's" and "Can Dribbles Read?"
He also has designed a series of "Dribbles" coloring books and flash cards that should be available for purchase soon. Watts hopes to work with schools and school districts to see if they are interested in using "Dribbles" to augment their curriculum.
"I want to get all my ducks in a row before I start making presentations to school districts and educators,'' said Watts, a U.S. Marine Corp veteran who is a member of the PSC Student Veterans Association, a Sigma Beta Delta honor society member and a Sandy Sansing Scholarship recipient. "We've been taught to make it perfect, make it great because you don't want anyone to say no."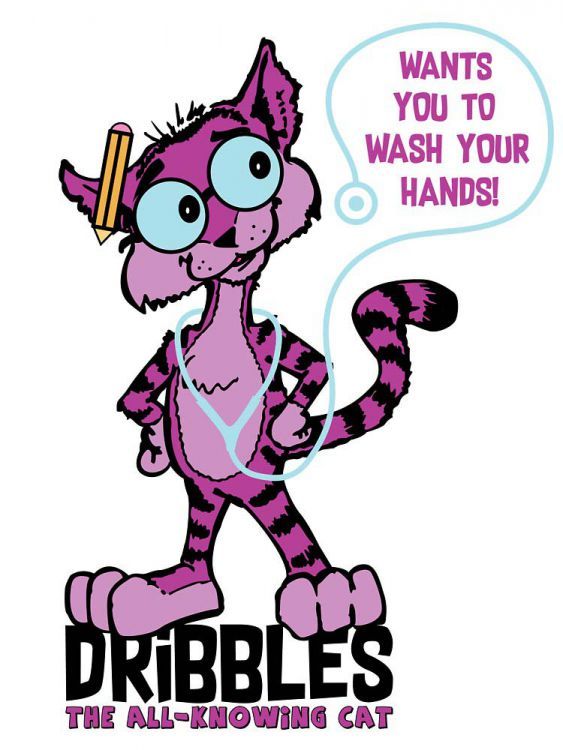 Already, he has a costumed "Dribbles" that makes appearances and stars in YouTube videos designed to promote childhood education. Watts recently introduced three of "Dribbles" friends to the production roster – "Nicky" the pig, "Blicky" the dog and "Ricky" the elephant.
A musician friend, Dwayne Draine, helps create the music for any "Dribbles" videos or songs, and other friends help in a variety of capacities, from helping with editing to wearing the "Dribbles" costume.
He's already spent a lot of money investing in his project.
"I'm bootstrapping it,'' he said. "I'm getting help from my parents, my brother-in-law and sister. They believe it (the project) too."
Watts credits PSC with helping him realize his vision.
"I knew nothing about computers or anything,'' said the 57-year-old Watts. "The younger students were so friendly and taught me a lot, along with the professors. The professors and the kids all got me through it. I love this college. It's really changed my life."
PSC Visual Arts Department Head Alaina Plowdrey said Watts "has the perfect combination of heart and ambition."
"His vision and production of 'Dribbles' have not only added a brilliant contribution to children's literature,'' she said, "but his work also showcases the high potential for student development from the classes and degrees offered in the Visual Arts Department. We are very proud of Troy and his growing accomplishments."
Watts hopes to keep growing the "Dribbles" franchise and will focus on the project even more after graduation.
He only has one complaint about PSC.
"I wish PSC had a master's degree program,'' he said. "I'd definitely enroll. This college means so much to me."
Where to find "Dribbles the All-Knowing Cat"
Dribbles has a Facebook page and YouTube Channel – just search "Dribbles the All-Knowing Cat."
Also, at https://dribblestheallknowingcat.com/
"Dribbles" books are available on www.amazon.com.