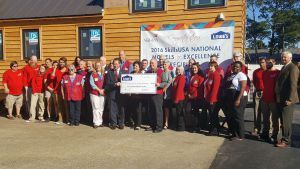 Published: 01-04-2017
Pensacola State's SkillsUSA chapter has received yet another accolade – this one being a monetary award.
Lowe's presented the chapter, a 2016 SkillsUSA National Models of Excellence Recipient, with a $2,000 grant on Thursday. Pensacola State's SkillsUSA chapter was one of only two community colleges in the nation to receive the Models of Excellence Award during the national conference held this summer in Louisville. The award – the highest level of the SkillsUSA Chapter Excellence Program – included the $2,000 grant.
"This is our way of helping to train the next generation of tradespeople," said Thomas Kopriva, manager of the Lowe's on Airport Boulevard.
"America needs young people who want to be carpenters, plumbers, electricians. There is a decline in skilled people to work in these and other trades and we are hoping this grant will help attract, educate and train students interested in those fields."
The funds will be used to help complete Pensacola State's Tiny House project, and expand the SkillsUSA program and assist with other projects, said Jennifer Ponson, the college's coordinator of student and program outreach.
"Our relationship with Lowe's gives our SkillsUSA members a chance to apply the skills they've learned outside of the classroom," she said. "These students learn how to work as a team and use their skills in a practical manner. We also get a chance to form more partnerships with area businesses and industry."
Pensacola State President Ed Meadows thanked Lowe's for the grant.
"Lowe's has always been a friend to Pensacola State. We couldn't ask for a better business partner," he said. "They have provided us discounts on building supplies – especially with the construction of the Tiny House – and have supported us in the past."
He also echoed Kopriva's statement about the growing need for tradespeople.
"A trained workforce is important to not just our local economy but the U.S. as a whole – that is why we placed such a focus on workforce education here at Pensacola State," Meadows said. "It is a mission of this college to educate and graduate the most skilled carpenters, electricians, and other skilled crafts people who are prepared and trained to go to work."
Rebecca MillaPedrozo, a SkillsUSA member enrolled in the carpentry program, is one of those students who plans to enter the workforce after fall semester graduation.
"I'm so glad that Lowe's donated this money to us. We'll be able to use these funds to add some nice finishes to our Tiny House," said MillaPedrozo, a former U.S. Army service member who plans to go into residential construction.
"In the military, I did carpentry work but Pensacola State's workforce education program is helping me to transition into the civilian workplace by allowing me to earn my carpentry certification. It's a great program, and I highly recommend it."