Published: 01-12-2023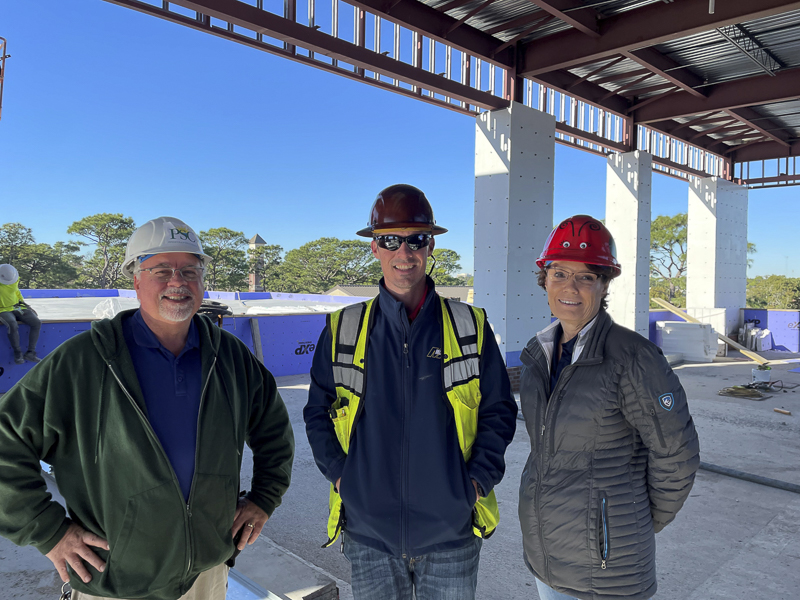 Construction of the Bear, Jones, Moore, and Reeves Advanced Technology Building should be completed by the end of summer with the first classes expected in the new facility in spring 2024.
Site work for the $23 million to $24 million project began in January 2022. An official groundbreaking ceremony was held last June.
The more than 46,000-square-foot facility will be used for math and computer science classes and include an emerging technology lab, computer and information center science labs, a 3D prototyping area, a rooftop terrace, faculty offices and more.
Diane Bracken, PSC Director of Facilities, Planning and Construction, said some math instructors are already jockeying for prime spaces in the new building.
"People are already saying which offices they want," she added. "It's going to be a great building."
The facility's name pays tribute to four Pensacola families – the Bear Family Foundation, Jo and Bill Jones, the late Pete Moore and his family and Jim Reeves – who collectively donated $1 million to fund STEM-related scholarships at the College.
The project is Phase II of the replacement of the Mary Ellison Baars Building which was constructed in 1956 and demolished in January 2019.
Phase I ─ the $15 million Baars Technology Building ─ opened in April 2021 and houses STEM programs including cybersecurity and computer science. The 23,000-plus-square-feet building is about half the size of the Bear, Jones, Moore and Reeves Advanced Technology Building.
The new building also features a third-floor connector that will link the Baars Technology Building and the Bear, Jones, Moore and Reeves Advanced Technology Building.
Construction was funded through the State of Florida and a $11.9 million grant from Triumph Gulf Coast, the organization charged by the state with distributing the $1.5 billion settlement from BP stemming from the 2010 oil spill.
Though building construction is scheduled for completion in August, classes must wait until the facility is suitably equipped.
"We will probably open for classes in spring of 2024,'' said Pensacola State President Ed Meadows. "State-of-the-art facilities are what students in high-demand fields like cybersecurity want. Pulling together all our math, computer science and cyber programs into one complex will help students, faculty and staff with scheduling and support services."
The Bear, Jones, Moore and Reeves Advanced Technology Building was designed by Florida Architects. The Morette Company is the general contractor.
"It's going well, though it's never as fast as you want it to go,'' said Justin Hodges, Morette Company project supervisor. "But we're moving pretty quickly. We have about 60 people out here working on any given day."
He said that number will increase to about 100 workers at a time when interior building construction ramps up in the coming weeks and months.