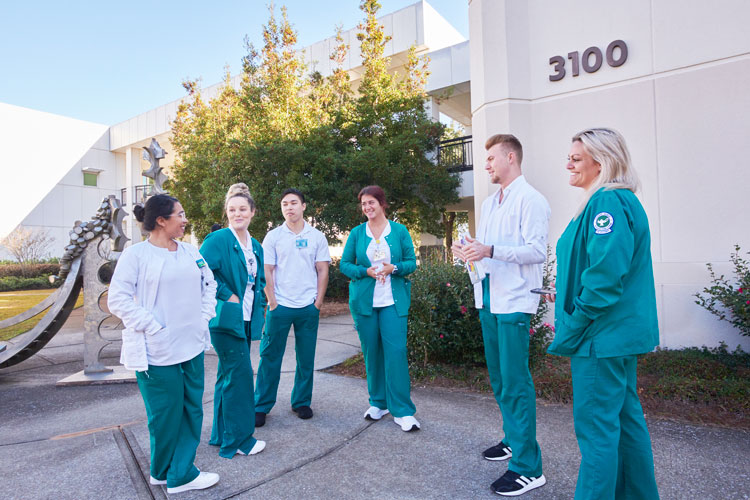 Pensacola State College's online RN to BSN (Bachelor of Science in Nursing) Program continues to be ranked among the best in the Florida College System, the state and nation by U.S. News and World Report.
In the publication's "Best Online Bachelor's Programs 2023 Edition," the program was ranked third among FCS institutions, 10th among all Florida colleges and universities and 74th in the United States.
Also, the online RN to BSN Program was ranked second in the FCS, seventh among all Florida colleges and universities and 43rd in the U.S. in the publication's 2023 Best Online Bachelor's Program for Veterans category.
Pensacola State President Ed Meadows said the U.S. News and World Report rankings of the online RN to BSN Program speak to the quality of the education that nursing students receive at the College.
"At a time when qualified nurses and other health care workers are needed more than ever, we're doing some great work here at Pensacola State College," Meadows said. "And I know our local health care providers will be pleased to know our program is producing some of the best nurses in that state and nation."
To calculate the rankings, U.S. News and World Report assessed schools based on four categories: engagement (35 percent), services and technologies (25 percent), faculty credentials and training (20 percent), and expert opinion (20 percent).
Dusti Sluder, PSC Dean of Health Sciences, said the online RN to BSN Program is a valued program within the health care community because it offers accessible and affordable education to the next generation of nursing leaders.
"Our graduates are prepared with the knowledge, skills, and competencies they need to transform the lives of others. It is nice to receive such a recognition for the program" Sluder added.
Launched in 2011, the online RN to BSN Program accommodates students who already work in the health care field. As of December 2022, 354 students have graduated from the program.
The College's online RN to BSN Program Coordinator Diane Jennette noted that the program – which is  accredited by the Commission on Collegiate Nursing Education and Accreditation Commission for Education in Nursing ─ also offers flexible schedules where students may start classes any semester.
"We work hard in the online RN to BSN Program to prepare licensed nurses with the leadership skills needed at the baccalaureate level to provide optimal quality care to patients and to lead others in the civilian and military communities," Jennette said.
Tanya Brashers, Program Coordinator for the Veteran Student Success Center at the College, said the rankings exemplify the College's devotion to the success of student-veterans.
"Online programs provide a diverse learning environment that proves advantageous for nontraditional students like veterans," Brashers explained.
"Best practices indicate that student-veterans are going to be most successful in programs where they can find a balance between their role as a student and commitments to family, work or health concerns. The fact we offer this online program and courses show that we use those best practices and are dedicated in ensuring our student-veterans meet their education goals."
Published annually, the U.S. News and World Report listing ranks more than 1,400 private and public colleges and universities. The complete "Best Colleges 2023 Edition" report will be released Tuesday, Jan. 24, and is available at www.usnews.com/bestcolleges.