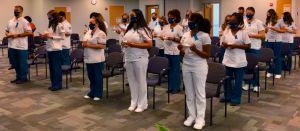 Published: 05-12-2021
Troy Moon, Pensacola State College
Kira Basilius wasn't sure she would make it.
The Pensacola State College nursing student was half-way through the two-year Associate of Science in Nursing degree when her husband, a U.S. Army soldier, received orders for Fort Benning, Georgia. She and her husband, as well as their children, including a baby who is now 21 months old, picked up and moved to Columbus, Georgia. near Fort Benning.
Kira didn't know what to do. Columbus is four hours away from Pensacola.
"I thought about dropping out several times," she said. "I just didn't know if I could do it because to drive that far would be so difficult and cut into my study time and my family time."
Kira ended up staying at PSC, making the four-hour drive twice a week. That's 16 hours round trip each week.
"But I did it. I'm so happy I pushed through and made it work."
Her eyes welled with tears as she thought about the struggles and the eventual payoff.
On Thursday, May 6, Kira was one of 27 PSC student nurses who received their nursing pins, nursing lamps and who recited the nursing pledge at a service on the Warrington campus.
The nurses also received their Nursing RN Associate in Science Degrees during the PSC commencement ceremony held Sunday, May 9, at the Pensacola Bay Center. Eighty-seven in the nursing cohort qualified to graduate, but only 27 attended the pinning event.
At the pinning ceremony, PSC President Ed Meadows commended the nursing students for finishing during a tumultuous period which included a pandemic and a nationwide shutdown.
"I really don't understand what it took for you to get here, but I do know it had to be extremely difficult," Meadows said. "You entered (the nursing program) right before the pandemic and weathered through the pandemic. I want to congratulate you on completing a most unusual and amazing journey."
Many of the nurses were doing clinical in-hospital work during the midst of the COVID-19 pandemic. Some even helped administer COVID-19 vaccines to patients.
"The students had a major challenge with COVID," said Wanda McNeal, PSC Assistant Director of Nursing. "But they got experience for sure. Now, they're entering the real world of nursing. I know they're prepared and ready."
Meadows told the new nurses that he hopes they stay in touch with PSC through the alumni association, and even said he hoped to run into the students in the future.
"I hope to see you in the community," he said, "but never in uniform. But rest assured, If I do see you in uniform, I know you will take care of me and my family as you do the rest of the population."
McNeal said many of the students have already entered into the PSC Bachelor of Science in Nursing degree program, which is an online program.
Kira said she will be entering the BSN program soon.
"I'm just grateful I won't have to drive back and forth," she said. "But now I can do what I've always wanted to do – take care of the sick."
PSC online Bachelor of Science in Nursing program has been listed among the best in Florida and the nation by U.S. News and World Report for several years.
In the "Best Online Bachelor's Programs 2021 Edition," Pensacola State's RN-to-BSN Program was ranked second among Florida College System (FCS) institutions. Also, the College tied for 8th among all Florida colleges and universities and was ranked 53rd in the U.S. by the publication.
PSC nursing students who received their nursing pins on Thursday, May 6, were:
• Emily Arnold
• Kira Basilius
• Gregory Bradley
• Sarah Chau
• Johann Dela Cruz
• Angelica DeSoto
• Gemma Dobson
• Robbie Hanlon
• Alysha Harvey
• Rachel Hebebrand
• Pamela Kerr
• Alicia McCullough
• Kailee McLamore
• Kinley Murcko
• Janefer Ogborn
• Mikayla O'Neal
• Michael Paquette
• Stephanie Parker
• Tessa Phillips
• Genoveva Regalado
• Monica Rogers
• Faith Rolfe
• Kaitlyn Steger
• London Taliaferro
• Ayana Thompson
• Cora Walker
• Kamiren Woods