Published: 10-07-2022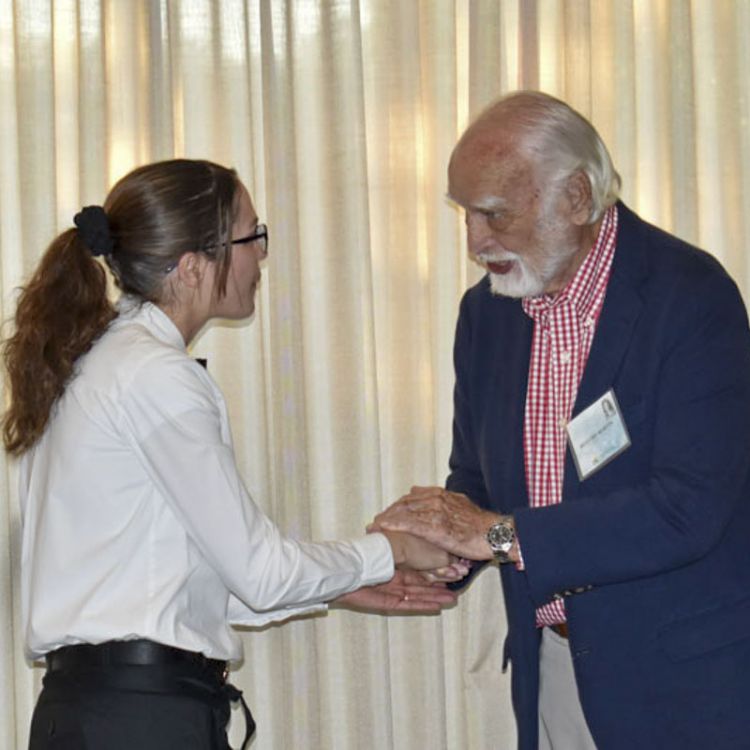 Legendary Pensacola restauranteur McGuire Martin wasn't at Pensacola State College on Wednesday, Oct. 5, to hire anyone for his popular restaurants – McGuire's Irish Pub, Flounders, Crabs. But how could he resist the three PSC culinary students he met?
After all, they must be great students with promising culinary careers since they are attending the College on a scholarship honoring Martin's late wife, Molly McGuire Martin, who died in August 2014.
"I want you want to know I offered all three (students) a job,'' Martin told the crowd gathered in the Molly McGuire Culinary Arts Dining Room to celebrate a scholarship landmark.
A $32,000 donation from the Irish Politicians Club (IPC) and the McGuire Martin family has pushed the Molly McGuire Culinary Arts Endowed Scholarship principal over the $500,000 mark.
"These contributions bring the endowment to well over $500,000 – a milestone for the scholarship which was established to honor one of this community's most beloved icons, Molly McGuire Martin," PSC President Ed Meadows said.
"McGuire Martin and his family, and members of the IPC give from their hearts to remember Molly and help Pensacola State students. We are so thankful for their commitment and support of the College.  McGuire Martin and family friend, Jim Reeves, initiated the Molly McGuire Endowment."
The endowed scholarship was established in June 2015 with over $200,000 in contributions from Pensacola area residents and businesses. The College's culinary arts dining room also was renamed in Molly McGuire Martin's honor.
Three current Molly McGuire Culinary Arts Endowed Scholarship recipients – Amaya Hankins, Elizabeth Loper and Mary Seeley ─ were at the event, along with other PSC culinary arts students who were tasked with preparing small plates of food for the guests, which included State Sen. Doug Broxson and State Rep. Michelle Salzman, as well as donors and supporters of the College. Favorites at the event included Mojo chicken, crispy broccoli and key lime cake.
"It's a really good program and it was great to receive the scholarship,'' said Seeley, a retired U.S. Navy officer who came to PSC "to find her second career."
"I've always loved cooking, but I want to keep it as a hobby because it's such a passion,'' she said. "But I would love to teach and share that passion."
Meadows said the endowment has elevated the visibility of the College's culinary program.
"Most of the students who are enrolled in this program also work. So, they work out of necessity to pay for school, and this scholarship allows them not to have to worry about quite as much work. It allows them to concentrate more on the skills they're learning here," he added.
The scholarship is the College's second-largest endowment fund. Since accruing interest, the fund has awarded more than $39,700 in scholarships to students enrolled in the Culinary Management Associate in Science Degree or Culinary Arts Technical programs.
Endowment funds are established in perpetuity ─ scholarships are awarded based only on the endowment's earned interest.
Chef Jimmie Langham, associate professor of culinary and hospitality management, was grateful for the donations – noting that the scholarships enable some students to enroll in and complete the programs.
"I would like to personally thank the McGuire family and the Irish Politicians Club for this  generous addition to the Molly McGuire Culinary Arts Endowed Scholarship," he said. "The additional funds will provide tuition and supplies to support our culinary students in their educational journey."
He said that as the scholarship has grown, he has "been able to give more money to more students."
Andrea Krieger, PSC Executive Director of Institutional Development, said the Martin family, McGuire's Irish Pub and the IPC have been vital to building and sustaining the Culinary Arts program.
"Both McGuire and the IPC do so much for our community and giving to PSC is a way for them to invest in our students and support their futures,'' she noted. "They give with no thought of if or how it will benefit them. They do this from their hearts. They truly care about our College and our community."
The Oct. 5 donation is the  latest contribution to the endowed scholarship fund.
For more information, contact Sheila Nichols, PSC's executive director of marketing and information, at 850-484-1428 or snichols@pensacolastate.edu.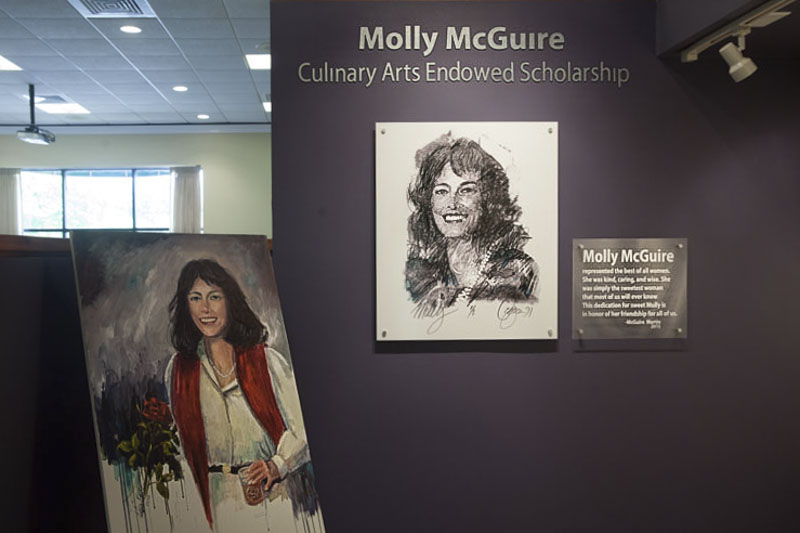 The Molly McGuire Culinary Arts Endowed Scholarship
Molly McGuire Culinary Arts Endowed Scholarship recipients must demonstrate a financial need and be enrolled full-time or part-time in the Pensacola State College's Culinary Management Associate in Science Degree or Culinary Arts Technical programs. Student must have a minimum 2.0 grade point average. Recipients may receive funds for up to two years if pursuing a certificate or associate degree. Scholarship funds can cover tuition, fees, books and supplies required by the syllabus. For more information, contact Chef Jimmie Langham at (850) 484-1422, or email at jdlangham@pensacolastate.edu.