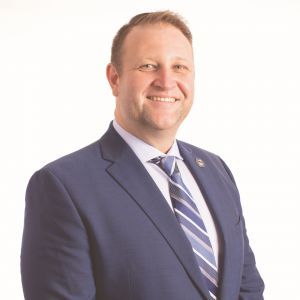 Published: 06-09-2021
Troy Moon, Pensacola State College
Pensacola State College data maestro Michael Johnston is the new chair of the Florida Department of Education's Management Information Systems Advisory Taskforce. The Taskforce – MISATFOR – reviews data issues related to the required data submissions across the Florida College System databases.
Johnston is PSC's Associate Vice President of Research and Management Information Systems. He previously served as MISATFOR vice-chair before being recently elected as chairman by representatives of the Florida College System's 28 colleges.
"I'm so flattered," Johnston said. "We want to show and tell the story of our colleges working together and are united on a common front and bridge gaps that sometimes people see as being competitive. We want to advance together."
MISATFOR officer and members meet twice a year with representatives from Florida's 28 colleges, as well as representatives from the Division of Accountability, Research and Measurement, the Division of Florida Colleges, the Division of Career and Adult Education and others.
MISATFOR issues include legislative changes, DOE policy changes and data quality initiatives to provide tighter controls producing better data across the system.
"Michael is very talented and hard working," said PSC President Ed Meadows in reference to Johnston's election. "His leadership as chair will certainly add value to the overall goals of the Task Force."
Though there are only two meetings a year, MISATFOR members are constantly in touch with each other, pushing ideas and comparing notes, Johnston said.
"We are working throughout the year and we communicate all the time," he said. "This is a group that has almost an infinite impact because we work with every single facet of an institution, whether it's scholarships, athletics, new certifications or licenses, enrollment, retention – all of it."