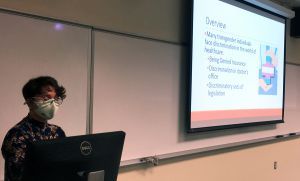 Published: 05-05-2021
Troy Moon, Pensacola State College
They are some of our best and brightest – young Pensacola State College Honors students with a passion for knowledge and a talent for research.
On April 30, 10 PSC students participated in the Honors Biology Research Project Component and presented their research to instructors and peers. The presentation was sponsored by the Robinson Honors Program.
The April event was the second Honors Biology Research Project Component presentation, with the first coming just over a year ago before the COVID-19 shutdown.
"The presentations are just so amazing and showcases all of their research and hard work," said Natural Sciences Associate Professor Melissa Sears, who is also advisor to the PSC Biology Club. "They really put so much into it."
The topics covered were complex and largely relevant to today's world:
• "Genetically Modifying Wildlife," Kori Anthony
• "Nutrition and Military Health," Sunny Bengston
• "Marginalized Populations: Vaccines & Healthcare," Stefanie Carter
• "The Transgender Brain," Sebastian Gordon
• "The Underrated Superbug," Brianna Mackey
• "Native Americans' Struggle with Social Darwinism in the 1830s," Dustin Reddin
• "U.S. Healthcare Barriers in the Transgender Community," Marley Reynolds
• "Autism in Women," Izel Tuncer
• "Living with Asperger's," J. Charlotte Van Why
• "The Flint Water Crisis," Keira Watson
Students were tasked with researching a genetics/health care-related aspect of a marginalized population of their choice.
Reynolds said the honors component allows students to go beyond the realm of conventional classes.
"I've always been about taking more classes and doing more," Reynolds said. "I like being busy and I like being part of the Honors program."
Reynolds graduated with honors from PSC with a General Studies Associate of Arts degree on Sunday. She plans to study Space Flights Operations at Embry-Riddle Aeronautical University in Daytona Beach.
"I'd like to eventually work with NASA or another space organization," Reynolds said. "And I've very interested in mental health, so I could see myself eventually working with the space program and merging psychology into that."
Robinson Honors Program Director Amber Carey sat in on the presentations.
"I am extremely proud of the hard work done by our students for their Biology Honors components," Carey said. "I enjoy attending their presentations and I always come away with new knowledge, which the nerd in me loves. Their presentations were well-researched, and the Scholars were well-spoken and knowledgeable on their given topics due to the excellent guidance of their Honors instructor, Melissa Sears."
PHOTO: PSC Honors Biology student Marley Reynolds delivers her presentation "U.S. Healthcare Barriers in the Transgender Community.