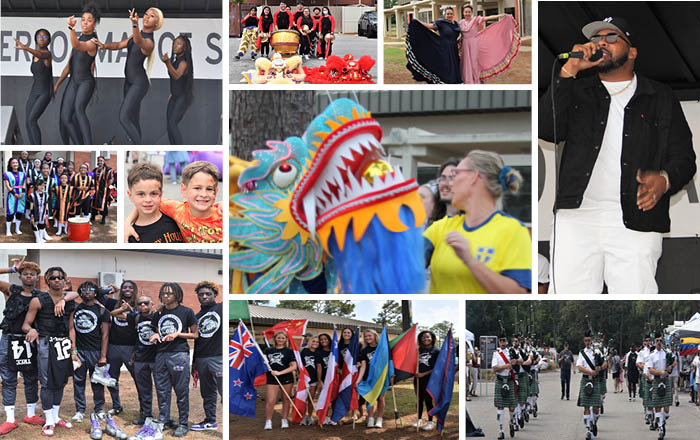 Little kids danced jigs to the music of McGuire's Irish Pub Bagpipe Band. Other little ones pranced in the grass later, keeping rhythm with the joyous Italian dancers gliding across the stage.
There was so much music, so much food, so much dance, and so much fun at Saturday's inaugural Pensacola State College International Festival.
The only damper came toward the tail end of the festival when stormy weather moved in.
But before that, crowds flocked to the Pensacola campus, where a buffet of food trucks served delicacies from a handful of continents. Mouth-watering aromas – Filipino food, Cajun food, Asian food, Italian food and more ─ permeated the grounds.
The PSC International Festival started with a parade of flags from various nations and vendors selling everything from shea butter to educational toys.
A constant stream of entertainers, including headliner Larry Watson, performed from the main stage while festivalgoers listened and danced on the grounds.
The festival was the brainchild of PSC supporter Dr. Marjan Mazza. It was chaired by the College's Humanities and Social Sciences' Assistant Department Head Kathy Van Dyck and co-chaired by Director of Staff and Professional Development Juanita Scott.
"We have been planning this event for over a year. Until Saturday, the vision for those plans existed only on paper. To watch each element of the festival unfold was simply breathtaking," Scott explained.
"It was an inspiration to see festival participants showcase their cultural pride through music, food, dance and art. I observed guests explore and enjoy traditions from other countries. The experience only deepened my appreciation for the educational components offered through exhibits highlighting traditions worldwide."
A separate area was set aside for the Children's Village, with attractions ranging from Reno's Reptiles and the Emerald Coast Wildlife Refuge to PSC Kids College art stations.
Robin and Lloyd Reshard, the top officials from the local nonprofit organization the Kukua Institute, spoke with festivalgoers – including many youngsters – about various educational and enrichment programs and services.
"I think it's great that the College is trying to bring the community together,'' said Robin Reshard, longtime Pensacola activist and historian.
"It's an opportunity for us to share and experience other cultures. That's always worthwhile."