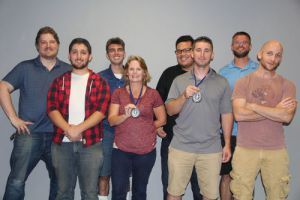 Published: 10-17-2017
Pensacola State College's Cybersecurity team recently took second place at the ITEN (Innovation Technology Entrepreneurship Network) Wired 2017 Summit held Oct. 9-11 at the Hilton Pensacola Beach.
Members of Pensacola State's cybersecurity team ­include Anthony Ferrer, Brandon Harter, Alex Huggett, Patrick Owens, Daniel Pieknik, Daniel Pitsenbarger and Christopher Puglisi. Adjunct professor Karin Carter is the team advisor.
This is the second year Pensacola State has placed at or near the top in the competition. In 2016, the college's cybersecurity team won first place at the ITEN competition.
This year, the University of West Florida cybersecurity team won first place at the competition, while a team from the University of South Alabama captured third place.
The annual summit, hosted by IT Gulf Coast and Florida West Economic Development Alliance, provides networking and learning opportunities for executives, entrepreneurs, technology professionals and academia to foster economic development efforts surrounding innovation, technology and entrepreneurship.
Pieknik, the team's captain, said despite having less time to complete the challenges this year, the competition was a lot of fun and the team performed exceptionally well.
"I attribute our success to the fact that each team member has a specialty – this allowed us to focus on detection and mitigation during the competition," Pieknik explained. "It was a lot of fun, and we especially like going up against our rivals over at UWF. They are a formidable opponent and we just want to officially congratulate them on this year's win."
Carter, a network engineer and cybersecurity specialist with the U.S. Department of Defense, said she was extremely proud of the PSC team's performance.
"They really showcased their technical skills during the competition. These guys had to learn a new software – Vyatta and the firewall, pfSense – which were unfamiliar to me as well," she said. "However, they had the knowledge and the skills to learn the software and keep the stalker out of the network."
The PSC team will next participate in the National Cyber League preseason games set for Oct. 20-28. The league provides a cybersecurity training ground in a high-fidelity simulation game environment. The league also provides higher education institutions with free curricula to help students prepare for events and professional certifications.
Robert Pratten, Pensacola State's assistant professor of the Information Technology Programs, said the college's hands-on learning environment prepares students for the real world.
"We understand that in a field as dynamic as cybersecurity many of our students learn best through doing ─ rather than observing, which is why it is so critical that curriculum includes hands-on practical experience," he said. "When these team members go to competitions, that practical experience really shines through and helps them be successful."