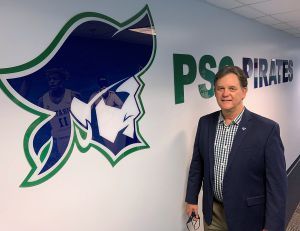 Published: 01-14-2021
Mary Mabins, Pensacola State College
After more than 37 years in college athletics, Pensacola State's Athletic Director Bill Hamilton will retire on Friday, Jan. 22.
Hamilton, who led the PSC Pirates baseball team to its first-ever state championship in 2004, plans to devote his time to becoming the "Best Grandpa" to his grandchildren – Bailey, 7, and Ty William, 3.
"First, I plan to sleep late and do nothing before tackling the chores in my two honey-do list jars," said Hamilton, the PSC head baseball coach from 1990 to 2010.
From 2000 to 2010, he did double duty as coach and athletic director. In 2010, Hamilton retired from coaching and became the College's full-time athletic director. Hamilton's official retirement date is March 31, his replacement will be named later.
Having spent more than 30 years at PSC, Hamilton admitted he will miss the people at the College.
"COVID-19 has given me a glimpse into how much I'll miss the people I work with. I'm a very social person – before the pandemic I was always eating lunch with someone – a colleague, former student-athlete, a community contact," Hamilton said.
During the 2004 championship season, the baseball team finished sixth in the JUCO World Series and earned the coveted Tomas Howard Sportsmanship Trophy. Hamilton also was named the FCCAA Coach of the Year, NJCAA Region VIII Coach of the Year and the ABCA/Diamond Regional Coach of the Year for the NJCAA Division 1.
In 2008, Hamilton surpassed legendary PSC Coach Buddy Kisner as the "All-Time Career Leader" in wins when he notched his 525th victory. He finished the year with 561 wins as the Pirates rolled to a 43-8 record, a conference championship and a NJCAA national poll No. 1 ranking for the last six weeks of the poll.
Hamilton has an overall record of 703 wins and 468 losses.
Over a storied career, Hamilton has received numerous awards – among them induction into the NJCAA Baseball Coaches Hall of Fame, the Pensacola Sports Association Hall of Fame and the Florida College System Activities Association Hall of Fame.
The accolades are sweet, but Hamilton says his proudest accomplishments are the stability he has provided his family as well as the relationships he cultivated with student-athletes and colleagues over the years.
"My wife, Cathy, and I were able to raise our daughter, Lindsay, in the same house. She was able to stay in the same schools with her longtime friends," he explained. "It was and still is the relationships I developed with so many people – not just at Pensacola State but throughout the community that really matter. Those are the things I most value."
Hamilton's influence has been far-reaching, and he counts nearly 80 professional athletes as former baseball players including Major Leaguers Billy Sadler and Adron Chambers.
Sadler, who played for the San Francisco Giants and Houston Astros, said Hamilton was bigger than life – even when he was a child.
"As a little boy, I was probably 10 years old when my family moved back to Pensacola from Alabama, and I would go up to the PSC baseball field and watch him coach," said Sadler.
"Even as a child, I remember Coach Hamilton as being very personable and such a giving individual with deep roots in Pensacola. He was a big Pensacola guy and I just wanted to follow in his footsteps. Later on, when I played on the Pirates team, he was everything I expected and more," said Sadler. He said Hamilton devoted countless hours to each student-athlete and stayed on top of their academic performance.
"He was more like a father figure, he wasn't mean or anything, but he just wanted to make sure we were taken care of," said the now-retired pitcher.
Sadler said Hamilton even attended his Major League Baseball debut when he pitched against the St. Louis Cardinals.
"It was 2006 and that meant the world to me," he said, adding he and Hamilton met for breakfast the morning before the game.
"I volunteered to buy breakfast. Coach Hamilton pointed at a sign that read breakfast was $3.99. Coach jokingly said he thought I could pretty much afford it now. I am happy for him and I know that he's going to have a great experience doing something else. Coach, may God bless you in your new endeavors."
Hamilton's commitment to student-athletes was obvious to everyone.
"While at Pensacola State, Bill was not only just a coach and athletic director to our student-athletes but also a father, motivator, confidante and leader," said Pensacola State President Ed Meadows.
"Anyone who knew Bill could tell how much he cared about his student-athletes. They knew he genuinely cared about not only their athletic performances but was committed to preparing them for the next level – whether it was at a university, professional sports or being a productive member of society."
Hamilton said he is still friends with most of his players and is just as proud of the hundreds of them who moved on to colleges or universities as he is of those who played professionally.
"I still see many PSC alumni and they are a bunch of my favorites. There is not any one guy," he said.
"At Pensacola State, we don't get the best students, we get the neediest – those who may be lacking socially, emotionally, academically, athletically and financially. Our goals at PSC are to help these student-athletes navigate through life so they are prepared for the next level when they leave us."
According to Meadows, the strategy works: During fall (2020) semester 65 percent of the College's 99 student-athletes earned a 3.0 or higher grade point average. He noted, however, it's not only about the grades but about student-athletes becoming well-rounded individuals.
"Many of these same students also went out into the community and helped residents with the cleanup after Hurricane Sally. In fact, our students volunteer and give back to the community whenever and however they can," Meadows said. "That's a lot to be proud of and it would not have happened without Bill Hamilton."
As athletic director, Hamilton led a $3.5 million total gym makeover, a $750,000 baseball stadium upgrade with an indoor hitting facility and the design and construction of a new $1.2 million softball stadium. Most recently, he helped to bring interior updates to Hartsell Arena.
A few years ago, Hamilton established the PSC Athletics Hall of Fame, where 15 student-athletes, coaches, administrators, boosters and community supporters were inducted in 2019 and 2020. A third class is to be inducted later this year.
An experienced clinician and speaker with more than 175 appearances, Hamilton has coached all over the world. including Australia, Europe, the Bahamas and Puerto Rico.
Hamilton said he had but two regrets: He wished he had been a better high school student and he wanted all his players to have experienced the best version of him as a coach.
"I did not try to be valedictorian of my high school graduating class; I did have the third-highest test score in my senior class, but I had a midlevel GPA. I really wished I would have tried my best academically," he said.
Early in his coaching career, Hamilton was afraid to ask questions about things he didn't know about the game.
"Later on, I started asking the old experts and that really sped up my development. It was eye-opening," he said.
Despite his regrets, Hamilton is a man of strong faith.
"God has been good to me," he said.
Born in Lake City, Hamilton grew up in Marianna. He began his career as an assistant coach at Chipola College from 1984-85, helping them to a state playoff berth in 1985. He was an assistant coach at Columbus (Georgia) State University from 1985-87. While there, he helped Head Coach Derek Mann lead the Cougars to two NCAA Division II World Series appearances, finishing runner-up in 1986 and fourth in 1987. From 1987 to 1990, he was a coach at North Florida Junior College in Madison – and was named Director of Athletics in 1989.
He earned a bachelor's degree from Huntingdon College in 1982 and has served on Huntingdon's Board of Trustees and the National Alumni Board of Directors. He received his master's degree in Administration and Supervision from Columbus State University in 1987.
Active in the community, Hamilton has served as chairman of the Board of Trustees of the Allen Memorial United Methodist Church, president of the Board of Directors of Pensacola Sports, chairman of the Council of Athletic Affairs for the State College System and on the Board of Higher Education and Campus Ministry for the Alabama-West Florida Conference of the Methodist Church.
Along with his wife, daughter and grandchildren, Hamilton also has a son-in-law ─ Chris Sullivan.
For more information, contact Sheila Nichols at (850) 484-1428 or snichols@pensacolastate.edu.
Bill Hamilton at a glance
Pensacola State Career: Athletic Director 2010-present, PSC head baseball coach and athletic director 2000-2010 and head baseball coach 1990 to 2010
Education: Bachelor's degree from Huntingdon College and master's degree in Administration and Supervision from Columbus State University
Awards: Lifetime Member of the American Baseball Coaches Association Annual Convention, 2020; Florida State College Activities Association Hall of Fame, 2018; Huntington College Athletic Hall of Fame; NJCAA Baseball Coaches Hall of Fame; 2010; Pensacola Sports Association's Hall of Fame; 2010; Huntingdon College's Board of Trustees and the National Alumni Board of Directors
Family: Wife, Cathy; daughter and son-in-law, Chris and Lindsay Sullivan; grandchildren, Bailey, 7, and Ty William, 3