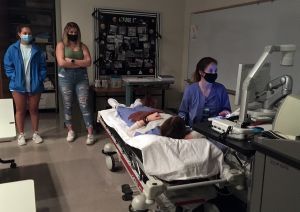 Published: 03-31-2021
Troy Moon, Pensacola State College
Katie Castle was on the patient table, her shirt pulled up to expose her stomach. Pensacola State College sonography student Haley Cauley moved an ultrasound transducer across Castle's stomach.
No, Castle isn't pregnant. She's a sonography student too. Both Castle and Cauley were demonstrating the use of the ultrasound equipment to prospective students at the PSC Allied Health Department Open House held Tuesday, March 30, on the Warrington campus.
How did Castle end up on the patient table instead of some other student?
"It's because I have good organs," she said. "They like to scan them."
The Open House was held to educate prospective students on the College's numerous health care programs, including Dental Hygiene, EKG Technician, Medical Assisting, Medical Coding and Billing, Pharmacy Technician, Radiography, Sonography, Phlebotomy Technician, Physical Therapist Assistant and more.
For a complete list of PSC Allied Health programs, go to www.pensacolastate.edu/departments/allied-health/.
PSC Pharmacy Technician Program Director Julie Burger organized the open house. The event was originally scheduled for Public Health Week in April 2020 but was pushed back a year because of the COVID-19 pandemic.
National Public Health Week 2021 is April 5-11.
Burger said the pandemic has increased the need for health care workers in all fields.
"There's been an extreme workforce demand for medical assistants and pharmacy technicians, specifically because of their qualifications to do immunizations," Burger said. "(The need now) is far, far greater than it was before."
Current PSC student Kaitlyn Howell was one of the people who attended the open house. She's uncertain whether to go into nursing or sonography.
"I'm interested in both," Howell said as she watched an ultrasound demonstration. "It's hard to narrow down right now."
PSC Sonography Program Director Lauren Sherrill said there's much more to sonography than "just scanning babies on the ultrasound."
"We can look at the heart, the kidneys, and soft tissue in the body," she said. "We don't just look at cute babies all day."
She said ultrasound can even be used to detect organ damage in COVID-19 patients.
Allied Health Department Head Mitzie Sowell said PSC's programs offer a variety of completion options.
"You can get a certification in a semester or an associate degree in two years," she said. "Whatever you want as far as a health care career, we have it covered."
For more information, go to www.pensacolastate.edu/departments/allied-health/.
PHOTO: Visitors observe as PSC sonography student Hayley Cauley performs an ultrasound on fellow student Katie Castle at the recent Allied Health Department Open House.