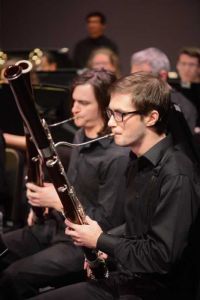 Published: 09-30-2016
Pensacola State College presents the Wind Ensemble and Jazz Ensemble in a free concert at 7:30 p.m., Thursday, Oct. 6, at the Ashmore Fine Arts Auditorium, Building 8, on the Pensacola campus.
The public is invited and no tickets are required. Seating begins at 7 p.m.
The Wind Ensemble, directed by PSC Performing Arts Department Head Don Snowden, presents "Brand New Shiny Pennies," featuring band compositions written in the last year. Included are Julie Giroux's "Hymn for the Innocent" written for all those innocent lives that are lost whether by accident, disease or acts of violence.
The concert opens with Gary Gilroy's "Furioso" followed by Rob Romeyn's "Of Heroes and Demons," an epic programmatic work for concert band that captures the fight between good and evil. Grant Michel's new work, "Ghost Run," is a composition written in a standard theme and variation form. The final work is Rossano Galante's musical portrait, "Red Rock Mountain," a beautiful mountain landscape in Pennsylvania.
Jazz musician and PSC faculty member Roger Villines leads the Jazz Ensemble in rousing selections by Billy Byers, Mongo Santamaria, Jeff Jarvis, Duke Pearson and Wes Montgomery.
For program information, contact PSC Performing Arts Department Head Don Snowden at 850-484-1800 or dsnowden@pensacolastate.edu.