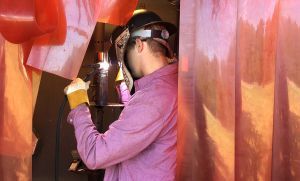 Published: 04-28-2021
Troy Moon, Pensacola State College
Pensacola State College's welding program has won a gold-level endorsement from the Central Gulf Industrial Alliance (CGIA) which includes Mississippi, Alabama and parts of the Florida panhandle.
As part of the endorsement process, CGIA asked employers about their perceptions of the PSC welding program and the graduates it produces.
The responses were anonymous but show that Pensacola State truly is a gold-level performer when it comes to putting quality workers into the Northwest Florida workforce. Here are just a few of their comments:
● "Stay away! This is my hidden gem."
● "The quality of craftsmanship is tenfold. Being that we are an all-around shop with metals – steel, stainless and mostly aluminum – we can count on them being well-versed in all processes."
● "Over the past two years, we have hired seven people that had just come out of the PSC welding program. There are some of the hardest working, motivated self-starters we have hired in the past five to 10 years."
"For my program, it's a big deal," said PSC welding program coordinator Jac Rolison. "It lets us know we're doing things right and it tells others that we have a quality program that produces quality workers that can go straight into the workforce and make good money."
The CGIA serves as the voice of industry in the region and is composed of industrial owners, contractors, associates and training organizations. Its evaluations are nationally-recognized and are designed to ensure programs operate at or above industry standards and meet workforce needs.
The CGIA assessment of PSC's welding program was conducted in early April.
PSC offers welding classes at the Pensacola campus, Milton campus and the Century Center. The Pensacola campus offers both day and evening welding classes.
Pensacola State offers a 1,050-clock hour Welding Technology Vocational Certificate which takes 3 semesters to complete. PSC also offers an Advanced Welding Technology Vocational Certificate which is a 750-clock hour program which is two semesters long.
During the assessment part of the endorsement process, Pensacola State earned a perfect score of 60.
"We literally received the highest rating (CGIA) has ever given," said Michael Listau, PSC Workforce Director. "I'm proud, but I wouldn't say surprised. Jac has put in a ton of work and the endorsement shows that we provide a level of industry standard training that employers can trust. It shows that we provide skilled and qualified candidates who are ready to enter the workforce."
Both Listau and Rolison said qualified welders are needed throughout the region.
"In a year, you can be out in the field and have the potential to make a lot of money," said Rolison, who has led the welding program for five years. "The trade fields like welding are in steady need of qualified workers who have been well-trained."
The PSC welding program had previously been assessed in 2015 and earned an "Emerging Partner" endorsement.
There are four PSC welding instructors at the Pensacola and Milton campuses and Century Center where he has even converted an old softball dugout into a welding unit.
There is an indoor classroom for lectures and discussions, but most of the course work is performed at the outdoor welding units.
"We're not in a fancy shop," Rolison said. "We're in the elements, just like a welder in the field. If it's hot, we're working through it. If it's cold, we deal with it."
Brennen Payton, 18, is in his second semester in the welding program.
"It's a great program and we have a great teacher," Payton said. "I've learned a lot and Mr. Jac has really prepared us for what we're going to face when we go out into the field."
Payton, a Navarre High School graduate, had originally hoped to attend college on a sports scholarship.
"That didn't work out, so I got to thinking about life and thought about trades," he said. "I started welding a little in my free time and liked it."
What does he hope to do after earning his certificate?
"Go to work and make some money."
For more information on the welding program contact program coordinator Jac Rolison at 850-475-4823 or jrolison@pensacolastate.edu or Department Advisor Ashley Faulkner at 850-484-1556 or afaulkner@pensacolastate.edu.