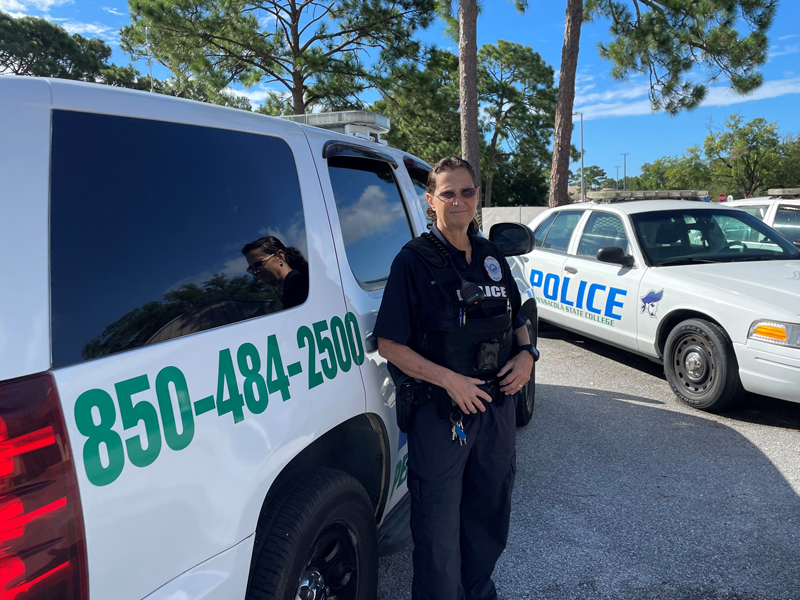 A lot of the faces are different. There's new construction and some buildings are long gone.
Still, Pensacola State College's Pensacola campus feels familiar to Kim Cooper, who joined the police force in late June. Actually, she rejoined the College police force.
Cooper was previously a PSC police officer from 2005 to 2010 and left law enforcement all together after leaving the College for personal reasons.
"I enjoyed PSC the first time around and I really wanted to come back,'' said Cooper, a U.S. Navy veteran who served in the Gulf War. "I always told my law enforcement buddies that I wanted to get back in it."
But a lot had changed in policing in the decade-plus she was away from the vocation. She re-entered a local Law Enforcement Academy to learn Defensive Tactics and then had to take a state exam to re-earn her credentials.
Cooper also earned a Crime Scene Technician certificate from PSC in 2020. She also has a master's degree in Legal Studies from Kaplan University in Fort Lauderdale and a bachelor's degree in Criminal Justice from the University of West Florida.
She has 11 years in law enforcement, including work as a corrections officer.
"She brings a lot of experience to the job,'' said Robert Goley, PSC Police Chief and Public Safety Director. "It takes a different kind of officer to work in higher education. She's familiar with this environment and has a lot of institutional knowledge."
Of course, some of that knowledge has to be updated.
"The College has changed a lot in some regards,'' Cooper said. "We have new buildings and it's changed in regard to some of the people I knew here are gone. But it's still similar. It's still PSC. You get to know people and they know you're there for them. You're visible and the students and employees get to know you."
After leaving PSC, Cooper worked for the Escambia County School District in a variety of positions ─ ranging from teaching assistant and substitute teacher to administrative assistant and coach.
She and her husband, Ron Cooper, have two children and one grandchild.