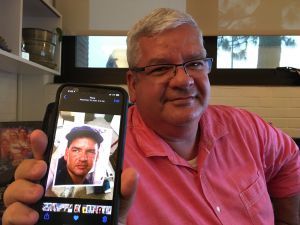 Published: 05-12-2021
Troy Moon, Pensacola State College
Pensacola State College's Jason King is back in uniform nearly a quarter century after leaving the United States Coast Guard.
But in the 1990s, King was an active duty Coast Guard seaman.
Now, the 51-year-old King, who is PSC's web administrator, is wearing the uniform of the United States Coast Guard Auxiliary. There are a few differences in uniform – buttons and some color differences – and a few changes in duty.
But for the most part, King feels the same sense of mission and teamwork that he did while an active duty seaman.
"The real reason I joined the Coast Guard Auxiliary was to go back and do missions and have the same camaraderie and job satisfaction I felt then," King said. "When you're part of a team – a well-trained team – and you have an opportunity to save a life, or even someone's boat, it's a great feeling."
The U.S. Coast Guard Auxiliary is the uniformed volunteer component of the Coast Guard. Its mission is to promote and improve recreational boating safety, to provide trained crews and facilities to augment the Coast Guard and enhance the safety and security of U.S. ports, waterways and coastal regions and to support Coast Guard operational, administrative and logistical requirements.
King joined the Coast Guard Auxiliary in October 2020 and is a member of Coast Guard Auxiliary Flotilla 1-4 out of Destin. He is still in training and hopes to qualify as a radio watchstander.
Watchstanders work in the radio watch centers at Coast Guard stations and monitor for calls seeking assistance. Watchstanders also maintain communications with Coast Guard vessels and respond to Mayday broadcasts.
There are about 26,000 Coast Guard Auxiliarists in the United States. Auxiliarists provide approximately 3.8 million hours of support each year to the Coast Guard. Though uniformed, Auxiliarists have no law enforcement or military jurisdiction.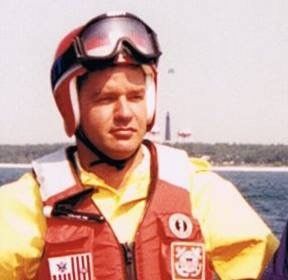 "We can't write a ticket or issue fines or arrest anyone," King said. "But we can call someone on the radio who can."
King has been with Pensacola State College since 1999, starting as a temporary worker. He became a full-time employee in 2001. He administers all PSC websites, along with other marketing duties.
Born in Milton, King attended then-Pensacola Junior College right out of high school.
"I had no idea what I wanted to do," King recalled. "I would leave early and cut classes to go surfing. I didn't know what I wanted to do."
King would later earn a Bachelor of Science degree in Interdisciplinary Information Technology from the University of West Florida and a webmaster certification from Florida State University.
He was working at an area grocery store and began thinking about the military. His grandfather is a U.S. Navy veteran who served in World War II and King talked to him about various options.
"He said, 'What about the Coast Guard?'," King recalled. "I said 'What?'"
But soon, King went to visit a Coast Guard recruiting station.
"I knew about five minutes in that this is what I wanted to do," he said.
What sold him?
While he was talking to a recruiter, two other men came in to see a recruiter.
"A really salty senior chief who had been sitting there listening to the recruiter talk to me told them to get out and go get haircuts and come back and see him," King said. "I was well-spoken and clean cut – I've had the same haircut since the '80s – and I thought it was awesome."
He spent his first year in the Coast Guard aboard the Coast Guard Cutter Papaw, which was a seagoing buoy tender. It was decommissioned in 1999. Based out of Galveston, Texas, the USCGC Papaw and its crew maintained navigation aids along the Texas and Louisiana coastlines.
His next assignment was home – Coast Guard Station Pensacola – where King would work search and rescue and law enforcement duties.
"The first time I ever saw the Coast Guard was at Fort Pickens during Hurricane Andrew (1992)," King said. "They rescued a couple of surfers who had drifted out in the channel."
King would end up doing the same kind of rescues in Pensacola.
"Every day we would do it," he said. "People breaking down or in distress and we would be on our way. The Coast Guard prides itself on its ability to react. Our goal was to go from a dead sleep to lines off the boat in four minutes. We could do it in two. We might be pulling our socks up and tying our shoes, but the boat was on the way." The Coast Guard's motto is "Semper Paratus" and means "Always Ready."
Years later, King would miss that kind of adventure and sense of teamwork. That's one reason he joined the Coast Guard Auxiliary.
"I have more free time now than I did," King said. "I'm already planning for retirement 10 years out. I hope to become deeply established in the Coast Guard Auxiliary and get a lot of experience. Then, when I retire, I can do a lot more with them."