Published: 10-28-2022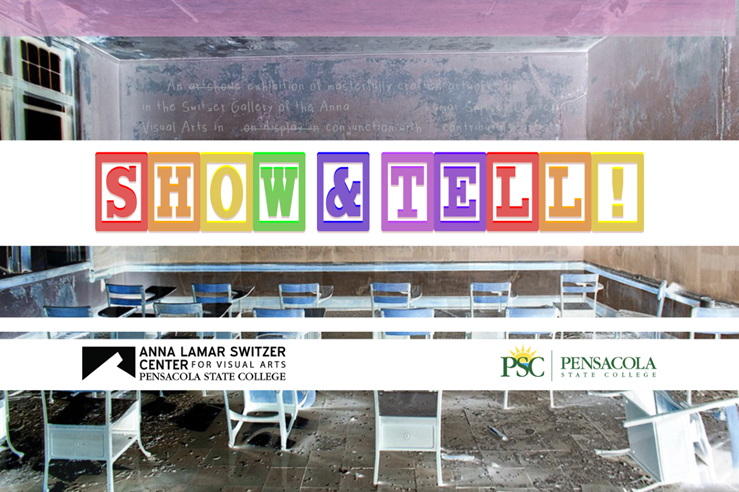 You still have a one more day to check out the awesome and inspiring art created by Pensacola State College Visual Arts department faculty members that is now on display at the Anna Lamar Switzer Center for the Visual Arts on the Pensacola campus.
The exhibition, titled "Show & Tell" debuted Oct. 10. An opening reception and art lectures took place on Oct. 20.
"Show & Tell" features the artwork of 11 PSC Visual Arts Department faculty and adjunct faculty members, including Department Head Brian Weaver and Gallery Coordinator Jason Pinckard.
The annual Faculty Exhibition features a variety of artistic media, including painting, sculpture, pottery, photography, graphic design and mixed media.
"Show & Tell" highlights "an incredible array of talent, content, diverse materials and thought,'' Weaver said. "The artist-makers and maker-artists in the exhibition demonstrated a collection of artworks that brought forth insight and a vulnerable introspection. The Annual Faculty Exhibition is causal and crucial to the wholistic development of the Visual Arts programming and the interconnected community found within (and outside) the Anna Lamar Switzer Center for Visual Arts.
The PSC Visual Arts Department faculty, adjunct faculty and administration showcased in the exhibit:
Micah Cain
Anna Cavnar
Frank Donato
Julie McGrath
Jason Pinckard
Hailee Potter
Kristen Regan
Jimmy Rhea
Brian Weaver
Christopher White
Paula Work
The quality of the work shows what is attainable for many students who are in the PSC Visual Arts program. Donato, a former PSC art student, is now a PSC Visual Arts adjunct instructor who teaches graphics.
"When I started at PSC, I could barely figure out how to use the Finder on a Mac,'' Donato said. "This program got me to focus my attention on something rather than just being scatterbrained. When I came here, I was a non-traditional student in my mid-20s and a first-generation college student from a family of immigrants. I was directionless."
Details: https://visualarts.pensacolastate.edu/art-exhibitions/show-tell-faculty-artwork-exhibition/.