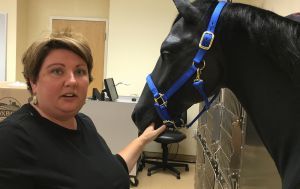 Published: 05-27-2020
Troy Moon, Pensacola State College
There's a U.S. map on the lobby wall of the Pensacola State College Veterinary Technology Program office with pins showing where graduates have gone to practice their profession.
Most of the pins are in Northwest Florida, sure. But there are others here and there. Virginia, Texas, and even far-flung Oregon.
It's a point of pride for the program, which, besides placing its graduates in various private veterinary practices, also has alumni teaching and doing research at other colleges and universities. The program offers small cohorts – a maximum of 24 students are admitted to the five-semester program each fall – and affordability that few colleges can match.
"This degree is like a key that opens a lot of doors that wouldn't otherwise be opened," said Sarah Meyer-Paterson, Veterinary Technology Program Director. "This (Associate of Science) degree will allow them to take the VTNE (Veterinary Technician National Exam) and earn their credentials. They're not just bettering themselves; they're improving the quality of care for their patients."
And PSC Veterinary Technology students are coming to the exam well prepared.
Among the 12 PSC students who took the exam last year, all passed. The national average for passing the VTNE during the most recent three-year period is 70 percent. PSC's passing rate over the same period was 88 percent.
The PSC Veterinary Technology Program is accredited by the American Veterinary Medical Association Committee on Veterinary Technician Education and Activities. Pensacola State is consistently ranked as one of the most affordable colleges in the nation by the U.S. Department of Education. U.S. News & World Report lists Pensacola State College graduates as carrying less student debt than any other school in the nation, except for Broward College, whose graduate debt-rate matched PSC's.
The program's high success rate and its affordability, has made Veterinary Technology Program students and graduates a valuable part of the local professional veterinary community.
Ami Delgado Perez is a PSC Veterinary Technology Program alumna who is now a Certified Veterinary Technician and Practice Manager at Parkway Animal Hospital in Gulf Breeze. PSC students regularly perform required clinic work at Parkway, Delgado Perez said.
"We have two (PSC) students this semester," she said. "They are pretty advanced compared to other students. They come here with quite a bit of knowledge."
Matthew Carson graduated from the program in May, and has already moved to Maine, where he has family, to seek a job in the veterinary field.
"I already have a couple of interviews lined up for next week," he said. "PSC was a great experience for me. I did not get what I expected – and I mean that in a good way. I learned so much more than I thought I would. And not just about animals, but how to be professional and carry yourself."
Would he recommend the program to others?
"I already have," he said.
Emly Clark is one of the 12 students in the current cohort that is in its third semester – the semester they study laboratory and exotic animals. She had worked in a veterinary clinic previously but did not have any formal training. Her cohort will graduate in spring 2021, while another cohort will begin this fall semester.
"I took time off for kids," said the mother of two. "But after they got a little older, I wanted to get back into the field and get that formal education."
She said the program "challenges you in a really good way."
"It's a great program," she said. "It's hard, but you learn so much. Tuition can be expensive, but at PSC you're paying community college prices and still receiving a top education."
During the COVID-19 shutdown, the Veterinary Technology Program has had to, like all programs, transition to online. But because of the hands-on nature of the field, Meyer-Paterson is bringing small groups of six to the College at specific times for in-class labs. All students wear full personal protection equipment and classes and equipment are disinfected after each usage.
Along with reptiles and other exotic animals, the current cohort will work with rats. Not mice. But rats.
"Rats are like puppies, believe it or not," Meyer-Paterson said. "They like to be handled and they're fastidiously clean. Yes, some students are freaked out a bit if they've never handled them before. But mice bite. They're little and they bite. But that's the thing, we educate our students on a variety of animals, not just dogs and cats."
PHOTO: Sarah Meyer-Paterson, Veterinary Technology Program Director, displays an artificial, life-size horse head used for training.
A Tour of PSC's Veterinary Technician Program

If you're considering a career as a veterinary technician, you'd be hard pressed to find a college or university that matches Pensacola State College's success and affordability. In this video, Troy Moon takes a tour of the program's labs and classrooms, guided by Sarah Meyer-Paterson, Veterinary Technology Program Director.

Posted by Pensacola State College on Wednesday, May 27, 2020