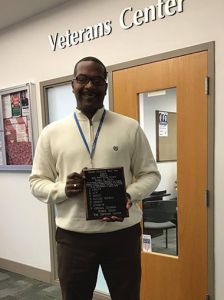 Published: 12-11-2018
Rob Gregg, director of TRIO Veterans Upward Bound (VUB) for Pensacola State College, was recently honored by the Gulf Coast Veterans Advocacy Council (GCVAC) with the 2018 George Everette "Bud" Day Award.
The award recognizes excellence in leadership involving people, events, programs, projects and/or teams. It is presented annually to a GCVAC member and volunteer who demonstrate leadership qualities such as being an excellent role model, inspiring others to work collaboratively and creatively, demonstrating initiative, fostering pride in GCVAC and promoting a work environment that is respectful, collegial and supportive.
"It puts a light on the importance of serving vets," said Gregg, who has worked at Pensacola State since 2008 and became the director of VUB in 2015. "I do a lot of things in the community dealing with vets. I don't think it's about me, it's more about putting the issues up front that vets face."
A U.S. Air Force officer, aviator, and veteran of World War II, Korean War and Vietnam War, Bud Day was also a prisoner of war, and recipient of the Medal of Honor and Air Force Cross. As of 2016, he was the only service member to be awarded the Medal of Honor and Air Force Cross. He died in July 2013 and was posthumously advanced to the rank of brigadier general.
The 88-year-old Iowa native lived in Shalimar and is buried in Barrancas National Cemetery at NAS Pensacola.
Gregg, who is the Florida State Director for the GCVAC, said the organization's focus is to be a resource for veterans who struggle with returning to mainstream civilian life.
"Often you think vets have the GI Bill, but that is only for a certain number of vets," he noted. "As a retired vet, I have access to certain benefits, but what happens to those who get out with no fanfare?"
Gregg served in the U.S. Navy for 24 years, most recently as a Lead Chief Petty Officer working with the Fresnel lens technology, helping guide pilots to land their planes on aircraft carriers. Now he guides veterans as they work to land college degrees.
VUB is a U.S. Department of Education-funded program designed to prepare veterans to go back to college, with a focus on low-income, first-generation college students.
"We help them get acclimated to the environment, then hand them off to another program – but we stay in touch with them," Gregg said. "I think Pensacola State is, for me, aligned with everything I learned in the military. It's all about service."
The father of three daughters, Gregg also has served as president of the Pensacola State College chapter of Association of Florida Colleges and mentors a middle school student through the "Take Stock in Children" program.
While Gregg said he is honored by his award, he said he measures his accomplishments by the success of those he serves.
"Changing lives is the reward," he added.