Published: 11-10-2022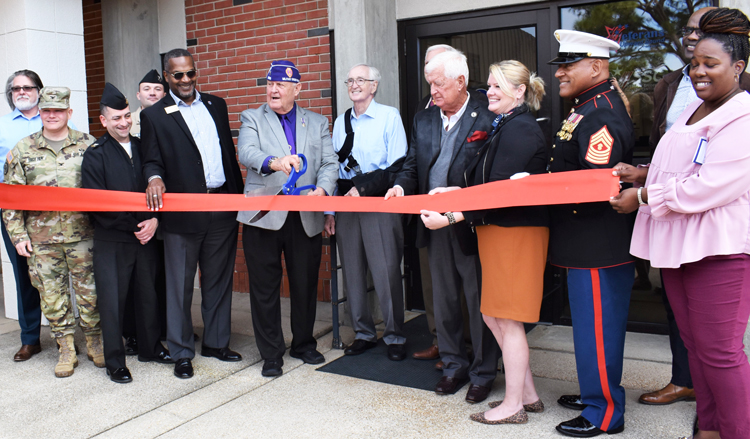 There was birthday cake and a ribbon cutting. There was a cookout and patriotic music.
Pensacola State College is closed on Veterans Day, Friday, Nov. 11. So, a day earlier, PSC strengthened its commitment to student-veterans with the ribbon cutting ceremony for the PSC Veteran Student Success Center, which had its unofficial opening earlier this year.
The ceremony also featured a U.S. Marine Corps 247th birthday celebration and remarks by three-time Purple Heart recipient Chris Lambert, who fought in Vietnam as a U.S. Marine.
The Veterans Student Success Center is a new program funded by a U.S. Department of Education grant.
At the ceremony, Lambert said the Veteran Student Success Center is evidence of PSC's commitment to the military and veterans.
"I want you to know that our veterans know by your actions that you care,'' Lambert said.
While PSC offers two federally-funded TRIO programs to assist certain veteran demographics, the Veterans Student Success Center assists all veterans.
PSC President Ed Meadows said that, historically, about 20 percent of all PSC students have served or are serving in the U.S. military or are military dependents.
Veteran Student Success Center Director and U.S. Navy veteran Tanya Brashers said the coordination of programs makes the College's ability to serve veterans more efficient.
"We see how being able to integrate (with the TRIO programs) makes everything run more smoothly,'' Brashers said. "Our whole goal is to ensure veterans success."
The celebration also featured a Student Veterans Association cookout and cakes courtesy of the PSC Culinary Club. One was a cake to celebrate the Veteran Student Success Center. The other was a birthday cake for the U.S. Marine Corps.
After a spirited live rendition of the "The Marines Hymn" by the Blue Anchor Belles – a group of military spouses who sing old-school "boogie woogie" and patriotic music – retired Marine Corps Master Gunnery Sgt. Bob Rivera cut the Marine Corps cake with his NCO Sword.
"This is a great commitment to our veterans,'' Rivera said of the Veteran Student Success Center. "What a wonderful day."