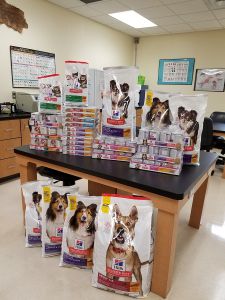 Published: 07-02-2020
Troy Moon, Pensacola State College
Southern Veterinary Partners donated 164 pounds of dry dog and cat food, and 252 cans of wet food, to the Pensacola State College Veterinary Technology Program to help feed the animals students and instructors care for on the Warrington campus.
The food is made by Hill's Pet Nutrition.
"This donation allows us to feed a high-quality diet while emphasizing the importance of nutrition throughout their life stages and health conditions," said Sarah Meyer-Patterson, Veterinary Technology Program Director.
Southern Veterinary Partners has four veterinary hospital partners in Northwest Florida – Friendship Veterinary Hospital in Fort Walton Beach, Southside Animal Hospital in Navarre, Safe Harbor Animal Hospital in Pensacola and Barry Veterinary Hospital in Miramar Beach.
The food will be used to feed the dogs and cats that the PSC program receives each week from the Escambia and Santa Rosa counties animal shelters.
Students use the animals in live-animal skills laboratory courses. Animals get dental and medical care from students and are sent back to the shelters at the end of the week better suited for adoption.
Shannon Kolker, manager at Friendship Veterinary School, said PSC's Vet Tech students have a history of success.
"We're actually one of the intern sites used for the Vet Tech program," Kolker said. "We've actually hired two or three who have gone through the program. We truly believe in veterinary education and PSC does a great job."